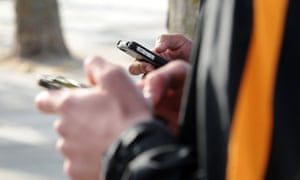 Middlesbrough has the best 4G mobile phone coverage in Britain while Bournemouth has the worst, according to a study of Britain's biggest urban areas.
The report, published by consumer watchdog Which?, found the availability of 4G coverage and download speeds varies wildly across the UK's 20 biggest cities and towns.
Middlesbrough topped the table with 83% availability for mobile users seeking 4G coverage, ahead of Sheffield, Sunderland, Leicester and Leeds. Bournemouth came bottom with 67.5% availability, behind Southampton and Portsmouth, Cardiff and Nottingham. London was ranked just 16th of the 20 cities studied.
The study comes a few months after a damning government reportfound Britain's 4G mobile coverage severely lagged behind peers such as Japan and the US. The report, which was by the infrastructure watchdog the National Infrastructure Commission (NIC), ranked the UK 54th in the world.
The latest study, which was carried out for Which? by OpenSignal, found that as well as coverage issues there was a huge difference in download speed for 4G mobile users in cities across the UK.
It found Stoke-on-Trent had the fastest in Britain. while Brighton and Hove ranked as the slowest.
Stoke-on-Trent came ahead of Coventry, Leicester and Liverpool. Brightonians experienced the worst download speeds, with Cardiff, Bristol and Edinburgh close behind. London was again ranked 16th.
"The mobile data experience isn't the same in every city for UK consumers," said Brendan Gill, the chief executive of OpenSignal. "Users found signals more often in Middlesbrough than in Manchester and faster 4G connections in Stoke than in London."
In a report publish in December, the telecoms regulator Ofcom said 4G coverage where the signal was available from all four of the big four mobile operators – EE, Vodafone, O2 and EE – reached just 40% of the UK.
The NIC report, which was also published as the end of last year, referred to a nation marked by "digital deserts" that should have adequate signal, such as on rail routes, roads and in city centres.
"These latest findings underline the need for Ofcom to keep the pressure on mobile operators, so that every part of the country gets a decent service on their mobile phone," said Alex Neill of Which?. "Our mobile phone is central to how we live our lives and that is why it is so frustrating when we can't access emails or browse the internet on the go."
Ofcom argues that the issue of mobile phone coverage is more nuanced than lobbying groups, and studies like those of OpenSignal, suggest.
The regulator pointed out that while full geographic coverage for a 4G signal from all four of the main operators was some way off, it had improved markedly from 8% in 2015 to 40% in 2016.
In addition, the availability of a 4G mobile signal was much higher when it was measured by the proportion of households and premises it reached, not just landmass, Ofgem said.
The proportion of premises that can now receive a 4G mobile signal indoors from all four main networks has risen from 28% to 72% between 2015 and 2016, it added.
While issues continue to dog the spread of 4G, Ofcom is already preparing for an auction of airwaves for the potential rollout of next-generation 5G services.
The chancellor, Philip Hammond, has said he wants to get ahead of the curve early to make the UK a "world leader" in 5G, which theoretically will open up an interconnected world of driverless cars, smart home appliances, armies of delivery drones and lightning-fast video on the go.
Ad watchdog to crack down on broadband speed claims
The advertising watchdog is to crack down on the broadband speeds companies claim in adverts to lure customers into signing up for their services.
Under the current UK advertising rules companies can advertise a speed to consumers as long as it is available to at least 10% of its customer base.
The Committee of Advertising Practice, which writes the UK ad code, is to consult on four potential ways to measure speeds claims that will be permitted in adverts.
The four options are based on looking at usage during peak times or over a 24-hour period.
The Advertising Standards Authority, which enforces the UK ad code, received 155 complaints about broadband speed claims in 131 ads last year.