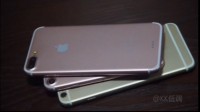 The iPhone 7 and 7 Pro will go official in September with pre-orders allegedly starting on the 9th. Actual shipments will begin a week later, most likely on September 16 (a Friday). The exact date of the Apple event hasn't been confirmed yet.
Last year, the iPhone 6s was unveiled on September 9th, pre-orders started on the 12th, but sales started two weeks later on September 25 (a Friday again).
While we're at it, here are some more photos of the iPhone 7 and iPhone 7 Pro. Note that the unit with the 3.5mm headphone jack is the iPhone 6s Plus, hope you didn't get excited over nothing.
[Source: GSMarena]