An extensive survey conducted by Digit.in across the country has shed light on what smartphone users feel about the devices they own. Our previous reporthighlighted that a majority of smartphone users own and use a Xiaomi device.
As we gather more insights from our Great Indian Mobile Survey, it's comes to light that Apple is the highest ranked smartphone brand when it comes to after-sales support. A majority of Apple users, 56.79 percent, gave the company top marks for providing quality after-sales support for iPhones. On a scale of 1 to 5, Apple received an average score of 4.18, highest amonst all surveyed brands. Apple iPhone repairs can be easily initiated from the company's repair website and authorised repair centres can also be located by performing a location search on the platform.
On the heels of Apple and on second position for the best after-sales service as rated by consumers is Samsung. Samsung bags the number two spot when it comes to customer satisfaction for after sales services for phones. 36.36 percent of Samsung mobile users who took Digit's Great Indian Mobile Survey awarded ace marks to the South Korean company's after-sales services. On an average, Samsung received a score of 3.89 out of 5. Samsung also allows mobile phone users to perform an easy search for after-sales support centres based on their location and also provides support services through a 24/7 toll-free number.
Huawei comes in Third with an average score of 3.72 out of 5 as rated by users of Huawei-made mobile phones who took the survey. Huawei has more than 260 authorised service centres across India, with exclusive service stores in Bangalore, Chennai, Cochin, Indore, Pune, Mumbai, Ahmedabad, Jaipur, Delhi, Gurgaon and Ludhiana. 24.07 percent of Huawei users gave the highest rating to the brand for its after-sales support for mobiles.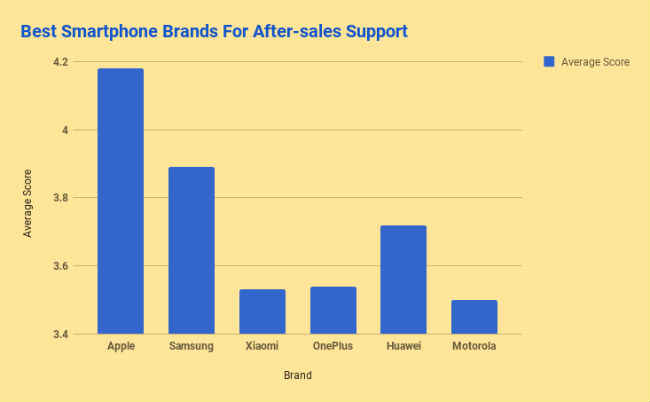 OnePlus and Xiaomi came in at number 4 and number 5 respectively for their after-sales support. The competition between the two brands was very close with OnePlus scoring an average 3.54 out of 5 and Xiaomi scoring 3.53 out of 5for after-sales services. 25.68 percent of OnePlus users and 22.64 percent of Xiaomi mobile users gave top marks to the brands. Motorola was rated 3.5 out of 5 on an average by its users, giving it the number 6 spot.
All our survey results are based on user opinions through which we aim to better inform the mobile user community in India. Let us know your thoughts on the after-sales support you get from your smartphone vendor. You can read other highlights from our Great Indian Mobile Surveyhere.
["Source-digit"]