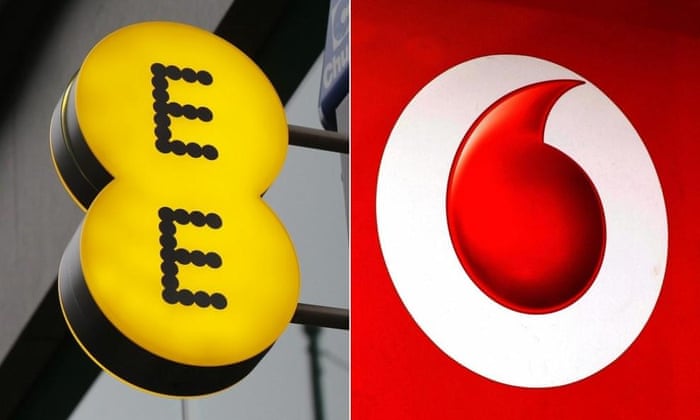 EE and Vodafone recorded the worst scores for customer satisfaction in the Which? survey. Composite: Reuters/PA
EE and Vodafone have been named as the UK's two worst mobile phone providers by the consumer group Which?
In its sixth annual survey of members, EE and Vodafone, which together account for more than half the market, recorded the worst scores for customer satisfaction. Giffgaff was named as the firm with the happiest mobile customers.
Despite its fast 4G service, Which? found that just 20% of EE customers would recommend the company's services to a friend or family member. The company that was a subject of £12bn takeover by rival BT in 2016, scored poorly for both customer service and value for money.
Only a quarter of those surveyed said they would recommend Vodafone and it scored almost equally badly.
EE was fined £2.7m by Ofcom in January after the regulator found the company twice broke a "fundamental" billing rule. Almost 40,000 customers were overcharged a collective £250,000.
In October last year, Vodafone paid out £4.6m as a result of two investigations that found the company had mishandled complaints, and had failed to credit more than 10,000 pay-as-you-go customers who topped up their accounts.
Overall, the community-run Giffgaff – which is owned by O2's parent company Telefonica –topped the Which? survey table with a score of 81%. About 70% of its customers said they would definitely recommend their provider to others.
The supermarket brands Tesco Mobile and Asda Mobile also scored strongly in third and fourth place. Three was the highest scoring of the big players. Virgin Mobile was the third worst provider.
Alex Neill, a Which? managing director, said: "Year after year we see the smaller providers giving great service and some of the biggest providers struggling to meet their customers expectations. Those who are fed up of receiving a poor service from their provider should look to switch.
"It is critical that the next government and Ofcom listen to the concerns of mobile phone customers so that there is increased competition in the industry."
Which? found that only a quarter of mobile customers had switched provider in the last two years. Ofcom announced plans last week for a "text-to-switch" scheme to allow customers to move to a new network within 24 hours.
Vodafone said: "After a difficult year in 2016, many of the improvements we have made are becoming real to our customers. We are determined to become the UK's best mobile service provider for customer service."
EE said: "Getting a good 4G connection is one of the most important factors for consumers, so it's disappointing that these ratings don't take network performance into account. The latest data from Ofcom shows that EE has improved customer service and receives the third fewest complaints in the mobile industry."
Mobile providers' rankings in the Which? survey
1. Giffgaff (81%)
2. Utility Warehouse (76%)
3. Tesco Mobile (74%)
4. Asda Mobile (72%)
5. Talkmobile (69%)
6. Plusnet (66%)
7. Three (64%)
8=. iD (Carphone Warehouse) (63%)
8=. BT Mobile (63%)
10=. O2 (62%)
10=. TalkTalk (62%)
10=. Virgin Mobile (62%)
13=. EE (50%)
13=. Vodafone (50%)
["Source-ndtv"]