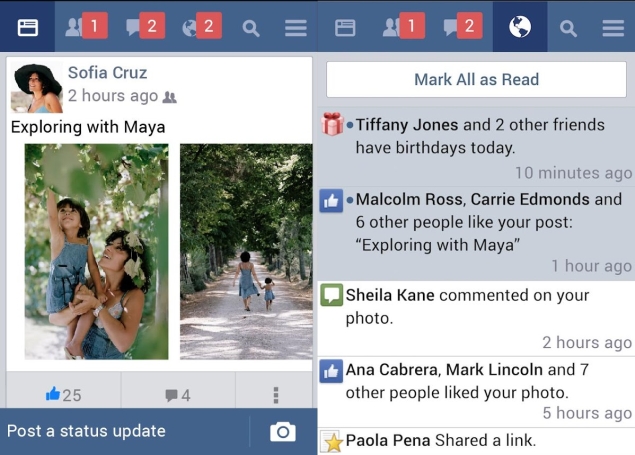 While phone makers are now launching 4G handsets and companies like Airtel and Reliance working towards bringing the networks in India, you might think that there's no need for apps that minimise data use. The fact of the matter though is that even in a metro like Delhi, 3G access depends greatly on which part of the city you're in at the time.
That's where Facebook Lite for Android comes into the picture. The app was launched in Asia earlier this month, and on Monday, Facebook Lite became available in India.
Facebook Lite is available on Google Play and it is just 435KB in size, runs on Android 2.2 and above, so even if you're using an older phone, you can probably take advantage of the application. According to Shankar, Facebook Lite was designed to solve two challenges – 2G Internet and low-end smartphones – and based on our experience with the app, it seems to have accomplished those goals.
What is Facebook Lite?
As the name suggests, Facebook Lite is a light version of Facebook. It looks like an old version of the Facebook app, with blocky looks and limited features. The full-fledged Facebook app has large cards with neat gutters, expands all pictures and fills up your screen, supports gestures to move between the different Facebook functions.
Facebook Lite on the other hand shows all these previews at a much smaller size, and when we were using it on a 2G network, images took forever to show up. The difference between how posts are displayed between the two versions of Facebook is dramatic, and it's definitely much more appealing to use Facebook on the full application.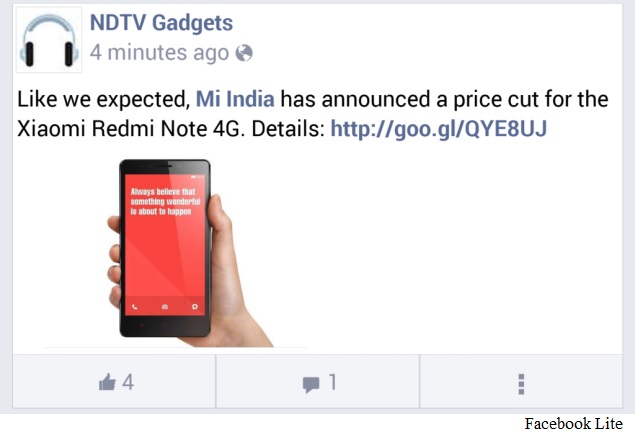 One other thing we noticed as soon as we started the application is that the Facebook logo is absolutely tiny, and this continued as we used the app too – images attached to posts are tiny thumbnails, filling the width of the screen, and they load after you tap on them. On the full Facebook application, images are much bigger, and they're likely being preloaded, because they popped up in full size as soon as we tapped on the thumbs. The catch is that you're pre-loading a lot of images you might not want to click on, using a lot of your mobile data along the way.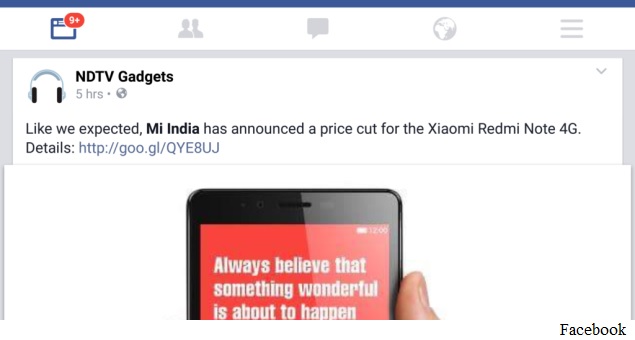 Shankar also points out that in the Facebook Lite settings, you can also choose the image quality, between low, medium and high. Facebook uses proprietary compression algorithms to deliver the images at the desired size, without losing too much visible quality.
Overall, the experience of using Facebook Lite is a lot less refined than the full version, but you're able to see posts and links more quickly while on the road, and you're using less mobile data to do so as well. All the features you'd expect – the news feed, friend requests, messages, notifications, and search, all show up. You can easily post status updates, or photos, just like you can on the full application. Messenger is built right into Facebook Lite, so you don't need to have Facebook Messenger installed to chat anymore.
How well did it perform on 2G?
While it's less refined, Facebook Lite loaded up posts much more quickly than the full version of the app when we switched to Edge connectivity. Usually, when we're on the road in remote areas, we give up on Facebook because it's almost certainly not going to load more posts.
The experience with Facebook Lite was a lot closer to using that other social network – Twitter. There are still problems, and posts still take some time to load. Images don't pop up right away, and take even more time to load. But it does show you new posts and you can at least read what people are saying while you wait for a picture to load, which is a step forward.
Doing all this required some sacrifices. For one thing, the app does not support videos yet, though that is on the roadmap, according to Shankar. It also doesn't support advanced location features – basically anything that requires the GPS. And while you can post comments on updates and pictures, you can't reply to comments for now. And while the main Facebook app allows you to work offline, and make post updates when it connects to a network, Facebook Lite does not have this feature.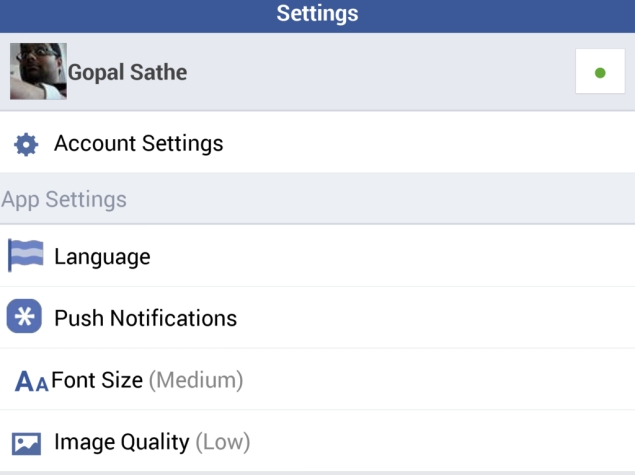 Who should use this?
If you're using an older Android phone, or if you bought a budget Android device, then the amount of storage available will can often be quite limited.
In such a case, the small size of Facebook Lite might actually be a big plus point, and you might be willing to sacrifice a little bit of the polish of Facebook, but an app that actually works smoothly and loads quickly on your phone which also frees up a lot of space. While Facebook Lite takes less than 1MB, Facebook can be a lot bigger – a few random checks all turned up usage of over 150MB. Smaller footprint also means that app updates take less data.
But the most important thing was that Facebook Lite uses less data. Facebook says that the app gives a reliable experience, even when bandwidth is at a minimum.
That means that if you've already started using an LTE connection on your flagship Android phone with a quad-HD screen, then you should will probably find this app boring and pointless. If you spend most of your time at home or in office, with a steady Wi-Fi connection, then you can probably give this app a miss.
On the other hand, if you're on the move a lot and travel in areas where getting a 3G signal is still a rare thing, or if you're trying to reduce the data usage you see for Facebook, then this app will be appealing.
On a smaller, lower resolution screen, the difference between the two versions of Facebook wasn't so pronounced, so you might prefer it if you have an older device, or if you bought a budget phone. And as we mentioned, it will probably be a good idea if you're using a phone with limited storage space as well.
The app isn't for everybody, but frankly, the number of people with good connectivity and high-end devices is definitely smaller than people with spotty Internet access and entry-level devices. Based on that, launching Facebook Lite seems like a great move, and will likely find plenty of takers in India.
["Source-gadgets.ndtv"]