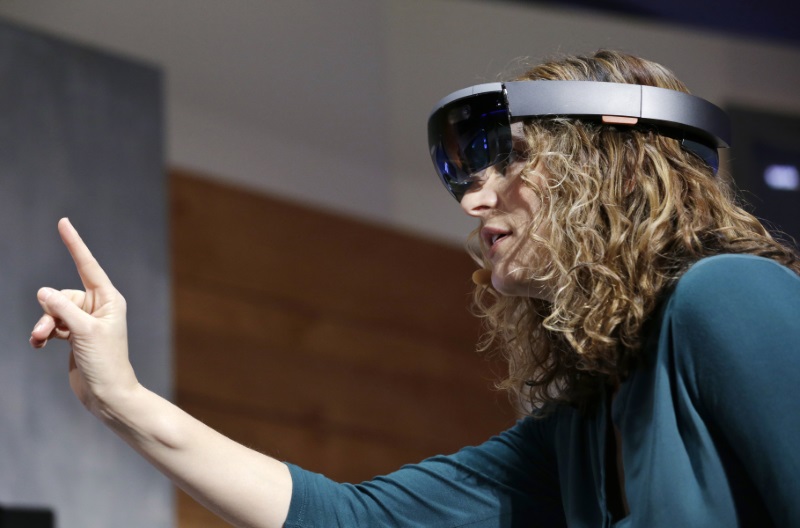 While there's still some time left for the HoloLens, Microsoft's augmented reality headset, to go on sale, it seems Microsoft is already feeding developers with instructions and guidance for the product. Leaked documents reveal how the Start menu on the HoloLens will look like, and at least one accessory that Microsoft has planned to accompany with its AR headset.
A video of the HoloLens' software in work was published by long-time Microsoft watcher and tipster WalkingCat recently, revealing a holographic variant of Start menu, and how a user can manipulate with it using hand gestures. The tipster also revealed that beta testers have been given an early access to an app called Actiongram – codenamed Project Burbank – that enables them to overlay on things and make mixed-reality videos about things that a wearer sees in the real world.
The documentation also reveals that Actiongram is currently in a closed beta. The first stage of the beta is scheduled to end in March, while the second beta will close at the end of May and the open beta will begin in August.
Several more documents shared by the tipster also lay bare on how the HoloLens interacts with objects – using a peripheral dubbed Clicker connects to the HoloLens headset via Bluetooth. From the video, it seems that Microsoft would allow users to utilise the button on this Clicker to trigger or confirm actions.
We may soon get to know more about the HoloLens and Actiongram app soon. As per the documentation, Microsoft plans to make some announcements about them on February 29, which also happens to be the day when Windows 10 Mobile will begin its general rollout, according to the company.
Microsoft has previously said that it would begin shipping its $3,000 HoloLens dev kits to developers in the first quarter of 2016.
[Source:- Gadget.ndtv]