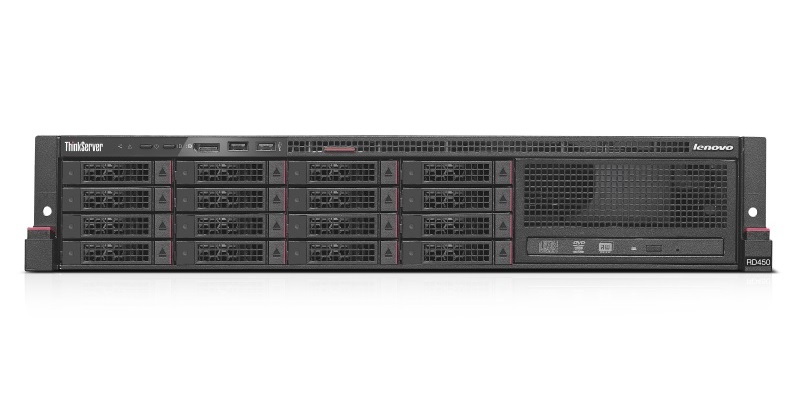 Lenovo has launched two new servers in India – the ThinkServer TS140, an entry-level Tower server, and ThinkServer RD450, an entry-level 2U rack server. This is the first addition from the ThinkServer portfolio to the EBG server range for Lenovo in India, post its acquisition of IBM's x86 business in 2014.
The ThinkServer TS140 supports enterprise grade hard disk drives that have 3x higher MTBFs and can handle up to 10 times the workload as compared to entry-level servers that come with consumer-grade hard drives. The off-the-shelf TS140 configuration from Lenovo is powered with built in RAID 5 capability, and Lenovo claims the advanced thermal design in the ThinkServer TS140 also reduces overall system noise to close to 26 decibels. Meanwhile, the ThinkServer RD450 offers more memory capacity, improved systems management capabilities and range of Platinum/ Titanium PSUs.
"We are extremely happy to be launching the first ThinkServer in India – a small step as we move towards becoming a market-leader in enterprise solutions by 2020," said Siddhesh Naik, Director of Enterprise Business Group at Lenovo. "With ThinkServer TS140 and RD450 we aim to take the legendary Think engineering to new age Indian small businesses who are looking to build their first DIY server compute cluster, or a software defined storage cluster, or even managed service providers looking for a whisper-quiet machine".
Lenovo said it expects about 20-25 percent of its server revenues to come from the government vertical on the back of initiatives like Digital India. The company currently gets about 12-13 per cent of its revenues from the government sector in India.
"The government has initiated many projects and we are participating in many in areas like surveillance and eGovernance. We expect to get about 20-25 percent of our revenues from the segment in the next three years," Lenovo Director Enterprise Business Group Siddesh Naik told reporters at the launch event in New Delhi.
He added that currently about 12-13 percent of its server revenues are coming from the government vertical, which is a "top priority" segment.
Naik said the company is part of three pilot projects for surveillance but declined to name the cities where these are being carried out.
"For us, enterprises segment (which has sectors like manufacturing, FMCG etc) is the largest, about 45 percent of our revenues come from there," he added.
["source-gadgets.ndtv"]