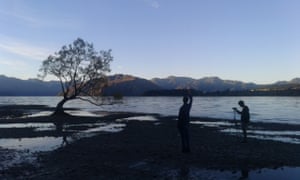 A spindly, crooked tree that appears to have grown up out of a lake has become an unlikely internet star and the most photographed tree in New Zealand.
The crack willow tree of Lake Wanaka, in New Zealand's South Island, has been photographed tens of thousands of times, with queues of photographers routinely forming on the lake's shore to capture its beauty.
Now referred to as #thatwanakatree on social media, the tree – which is technically a weed – has a dedicated Facebook page, features in tens of thousands of posts on Instagram and often attracts hundreds of tourists at sunrise and sunset.
Local historians believe the tree formed out of an old willow fence post, which was used by Wanaka sheep Station to keep stock out of the village.
Despite its unique location, the tree's popularity has puzzled locals, who fail to see why it has become so popular. Some are looking forward to the day the tree dies so the crowds on the lake's edge will disperse.
Landscape photographer Gilbert van Reenen has lived in Wanaka for 35 years and says social media "created the tree".
"I have lived here for decades and everyone ignored the tree until a few years ago, when it became something on tourists buckets lists to photograph, there are 40 cars there today," he said.
"It displays a real lack of imagination and a shallow approach to nature. Aesthetically speaking, the tree is nothing special at all, and I think the obsession with it has become rather unhealthy. I like people to go and find their own wonderful places to photograph, and not just slavishly follow the guidebook."
As the tree has grown in popularity amateur and professional photographers alike have become increasingly creative in their attempts to capture an original image of the willow, which is framed by the waters of Lake Wanaka and the Southern Alps in the background.
On Instagram people pose naked beside it, have their wedding photographs taken in front of it or meditate beneath it.
Tim Errington, Queenstown Lakes District Council's arborist, said the willow's health has begun to suffer because of the overwhelming attention, with tourists routinely posing in the tree and breaking its thin branches, and some even setting up slack lines between bigger trees on the shore to the willow and walking across.
"The tree isn't very healthy, it hasn't grown much. Partly because of the number of people who climb on it, and partly because it is drawing few nutrients from the Lake bed, as it is usually submerged in water."
Errington said he found it "bizarre" that the tree was so popular, as less than a hundred metres away, in Wanaka Station Park, were mature trees planted by the early settlers which were "among the most wonderful and fabulous trees in the district, but no-one visits them".
["Source-theguardian"]