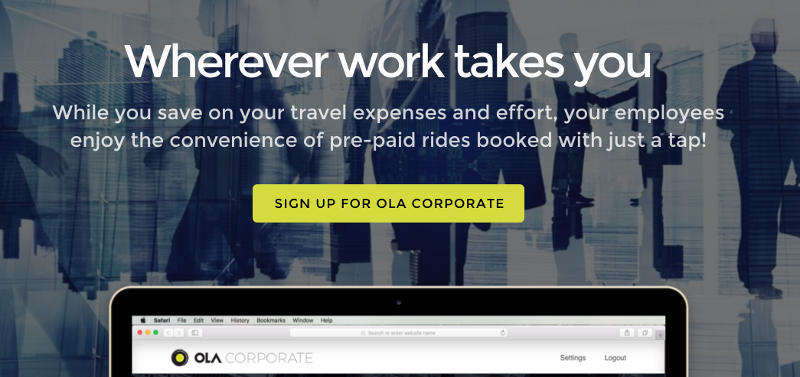 Taxi aggregator Ola on Monday announced the launch of its corporate billing solution called Ola Corporate in 102 cities across India.
Corporate users can set customised ride policies for different groups of employees, and choose any vehicle type from its fleet, such as Ola Mini, Ola Sedan, Ola Prime, along with Ola Share and Ola Shuttle, when they are launched in a particular city, the company said.
Ola Corporate will provide a "seamless mobility experience at a fraction of the cost for enterprise customers," the company said, adding that it will enable companies to do away with cumbersome billing and reimbursements, and set centralised billing and customised ride policies.
The feature is live at http://corporate.olacabs.com, where admin teams can manage and track employee permissions, budget allocation, ride information, and expenses.
Company executives need to be verified by their employer to be eligible for Ola Corporate, following which, a new toggle option called 'Corporate Ride' appears on the confirmation screen at the time of booking.
On enabling this, the ride gets billed directly to the user's corporate account, without the user having to pay the fare in cash or through Ola Money, the company said in an emailed statement.

"The corporate dashboard allows for improved efficiency and productivity for businesses, taking away the hassle of scheduling pickups and cumbersome billing and payment processes, " said Pranay Jivrajka, COO at Ola.
While the emailed statement did not share details on pricing or packages, the terms and conditions page mentions that the creation of a prepaid account is subject to a minimum prepayment of Rs. 5,000. The minimum recharge amount on the dashboard is also Rs. 5,000.
The agreement raises a couple of red flags, as Ola states that it is "not responsible for any delays, delivery failures, or any other loss or damage resulting form the services offered by the Transport Service Providers." and that the agreement "does not warrant the uninterrupted and perpetual availability of Transport Service Providers on the Platform."
["source-ndtv"]