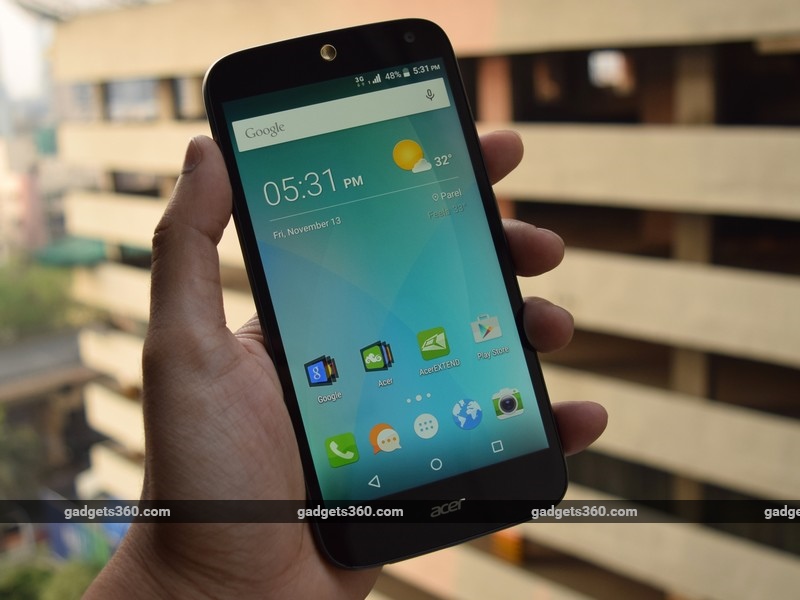 After a long hiatus, Acer is taking another shot at the Indian smartphone market with two new budget offerings. The Taiwanese company recently announced the Liquid Z530 and Liquid Z630s Android smartphones, which we first saw at IFA 2015. The new offerings will be sold exclusively through Flipkart and will also be manufactured in India, come December. Acer is testing the waters now and if things pick up, we can expect other models to follow suit.
Today, we'll be reviewing the Liquid Z630s, a lower-mid-range smartphone priced at Rs. 10,999. We've already taken a quick look at it and its smaller sibling in our unboxing video and it's now time to see how this phone stacks up against the competition. In this space, we have plenty of tried and tested options from the likes of Lenovo, Motorola and Asus so let's see if Acer's offering has that special sauce to help it stand out.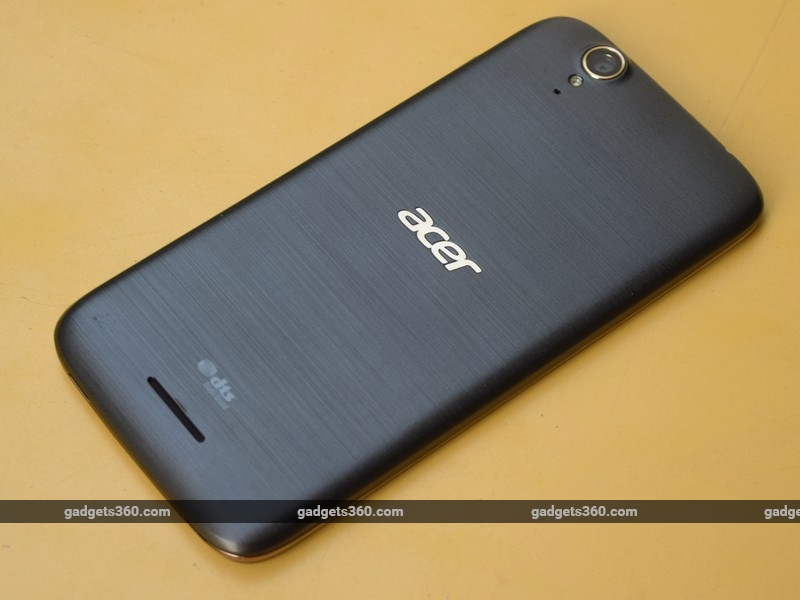 Look and feel
The Acer Liquid Z630s features a pebble-like design with rounded edges and sloping lines, much like the Samsung Galaxy S3 (Review). It's a good look and makes the phone comfortable to hold. The brushed-metal texture for the back cover is easy on the eyes and helps keep fingerprints at bay. There's a gold trim which runs along the edges of the phone and the front earpiece is a matching colour, as are the ring around the camera and the Acer logo on the back. The battery is removable and the two SIM slots and microSD card slot can be accessed by taking off the back cover.
The volume rocker and power button are placed on the right and have good tactile feedback. The 3.5mm headphone jack and Micro-USB port take their place at the top and bottom respectively. There's a fixed-focus 8-megapixel camera in the front and the same sensor, but with autofocus, around the back. Like most of its offerings, Acer has added DTS Studio Sound enhancement for the rear speaker and headphones.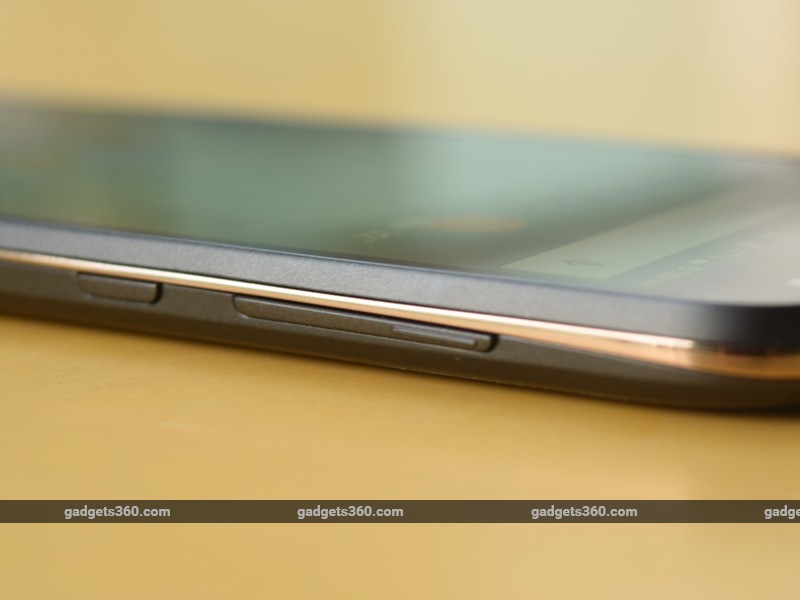 The 5.5-inch HD IPS display gets Acer's Lumiflex technology, which can be toggled in the Settings app. This is designed to improve colour rendition under direct sunlight. We didn't find any major difference with it on or off when we tested it, as the display tends to wash out under sunlight either way. There's also Asahi's Dragontrail glass for protection. With this screen size and an HD resolution, the low pixel density rears its ugly head in the form of slight jaggedness around edges of icons and text, but you have to really look for it to notice it, and most users probably won't.
We received a review sample from Acer without its retail packaging, which should include a headset, charger, USB cable and manual. Overall, the Liquid Z630s is built well with good aesthetics. It's not particularly slim at 8.9mm but is fairly light at 165g. It's quite a handful too due to the sizeable bezel all around the display, so single-handed use is largely not possible.
Specifications and software
The Acer Liquid Z630s packs in an octa-core MediaTek MT6753 processor running at 1.3GHz. There's 3GB of RAM and 32GB of onboard storage which can be doubled by adding a microSD card. Other specifications include Wi-Fi b/g/n, Bluetooth 4.0, USB-OTG, FM radio, and GPS. The two SIM slots support 4G but only FDD-LTE and not TDD-LTE so you won't be able to use it with current 4G networks in India.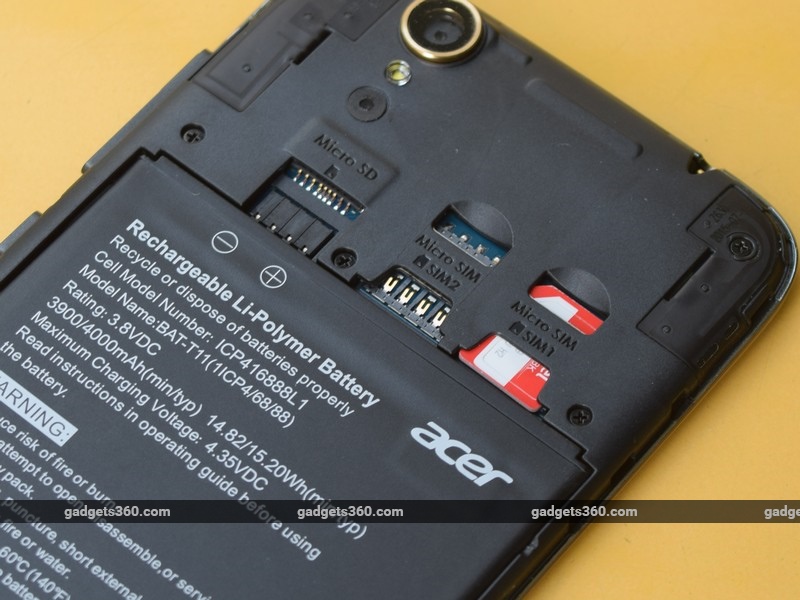 On the software front, the phone runs Acer's Liquid UI which is a heavily skinned version of Android Lollipop 5.1. Thankfully, it's easy to find your way around as Acer has stuck with the app-drawer-style launcher. In addition to the standard set of toggle switches, Acer has added something called "Float Apps" for the notes, calculator and calendar apps. These are mini versions of the standard apps which can run on top of other apps, giving you some level of Windows-style multitasking. Sadly, you can't change the size of the float apps. There's an option to toggle the Bluelight Shield from the notification shade and vary the intensity through the settings app.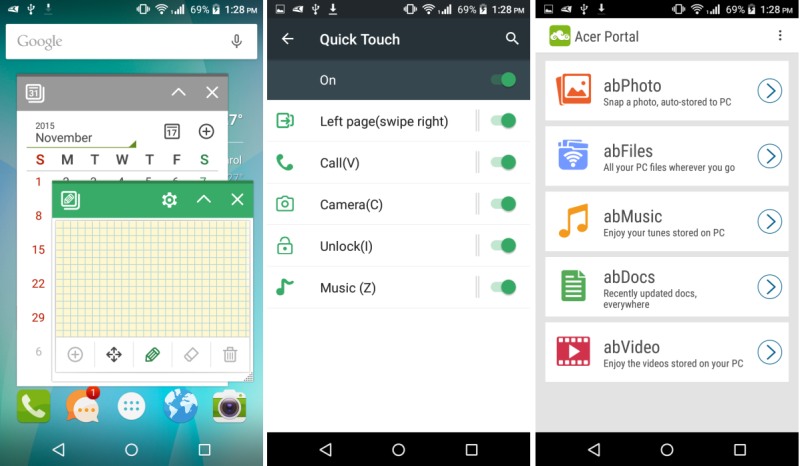 Quick Touch is a handy gesture system which lets you open apps and skip music tracks by drawing gestures when the display is off. The DTS sound enhancement lets you tweak the level of bass and treble and set separate equalizers for music and video. This works well and the sound is noticeably louder, but we would have liked separate settings for headphones and the main speaker, which other manufacturers such as Motorola have implemented.
Acer also bundles a bunch of bloatware in the form of trial games, but thankfully, these can be uninstalled. There's a Kids Centre and painting app for keeping kids occupied. You also get a bunch of Acer's in-house apps including AcerEXTEND which lets you cast your phone onto your PC screen through an emulator. Setting it up is as easy as downloading the PC application and signing in on your phone and PC with the same Acer account.
Apart from receiving notifications, you can fully control your phone through the emulator. That includes listening to music that's on it, and answering calls as audio routed through the PC. The one thing that we didn't like was that the actions performed through the emulator are replicated on the phone screen in real-time, which means there's no privacy if your phone is away from you.
Acer Portal is part of Acer's BYOC (Build You Own Cloud) feature which lets you turn your PC into your own personal cloud. You get specialised apps called abFiles, abPhotos, abMusic and abDocs for the phone and PC. We managed to get abFiles working easily, which allowed us to transfer files between the PC and the phone. The other apps don't work as seamlessly as abFiles and need some figuring out. abFiles is the most useful out of the lot though as it lets you access all your PC's files on your phone.
Acer Aid Kit lets you manage battery life and RAM usage; Acer SnapNote helps you organise notes you capture with the camera; Liquid Select is an app store; Liquid Wizard lets you manage the phone's theme, ringtone and font size; LiveScreen lets you share your sketches with friends in real-time (but this only works on Acer smartphones); and Quick Mode is an alternative launcher. There's also Polaris Office, News Republic, and Opera Max.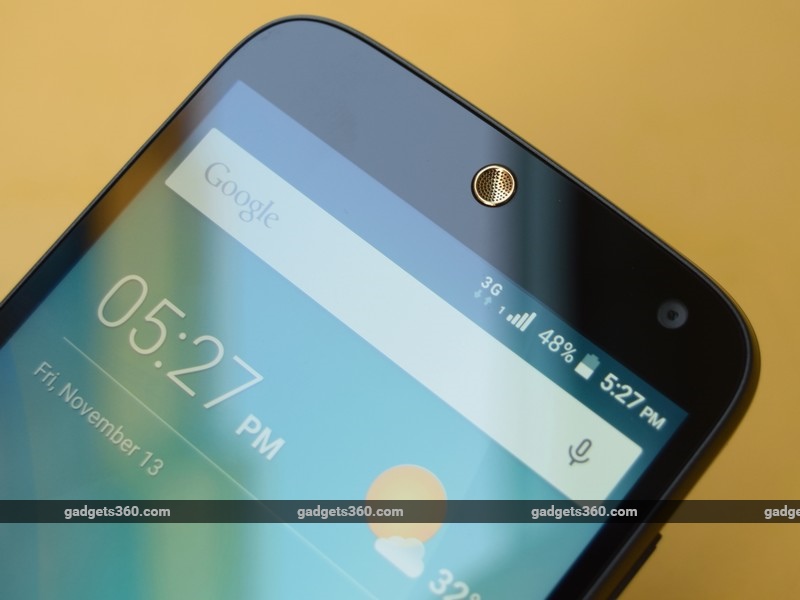 Performance
The Liquid Z630s is an able performer when it comes to carrying out regular duties. The interface is snappy despite the heavy customisations and we didn't encounter any noticeable lag while multitasking. Apps were quick to respond and the phone easily handled demanding games such as Dead Trigger 2. It does get a bit warm after prolonged use of the camera or video playback, but never uncomfortably hot. Call quality is good and the earpiece is loud enough even in noisy environments.
The phone performed admirably in benchmarks too. We got a score of 34,452 in AnTuTu and 21fps in GFXbench. 3DMark Ice Storm returned a score of 7,595 in the standard test. Overall, these are pretty decent numbers when compared to other phones at this price point.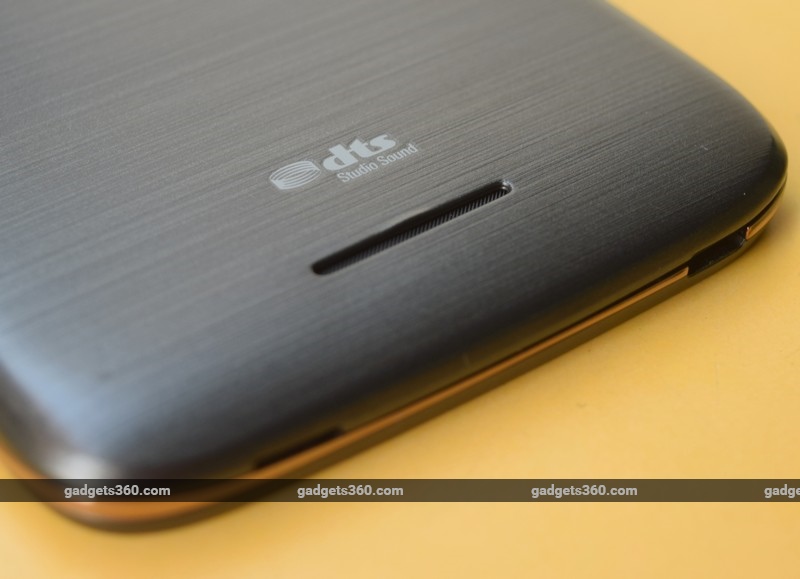 Media playback is also quite good. The phone easily handles full-HD videos and even our high-bitrate test files played without any hiccup. The speaker is loud enough for alerts but sounds little weak for media. It's decent when used indoors but tends to get drowned out when there's lots of outdoor or ambient noise. Audio playback through the headphones is better. We feel that stereo speakers would have done the DTS enhancements more justice.
The camera interface is easy to navigate and use. You get a host of capture modes for the rear 8-megapixel camera, from HDR and panorama to multi-angle and gourmet. The options are easy to flick through with your thumb. You can change scene modes, add colour effects, set white balance and exposure compensation, and shoot time-lapse videos.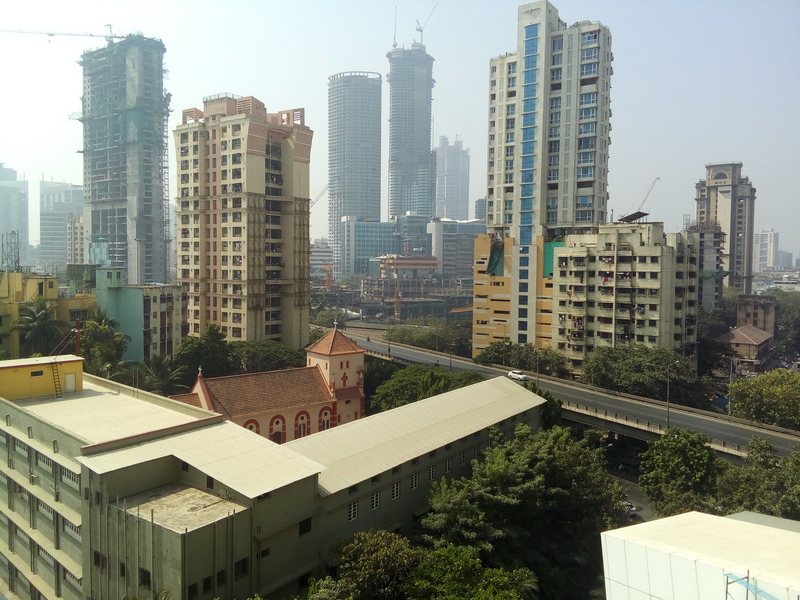 (Click to see full size)The camera is quick to lock focus as well as capture and save pictures. This works well with low-light shots too. Pictures look good on the phone's display but lack a bit of detail when viewed in full size on a PC. This is most noticeable in landscapes shots. Macros fare a little better with good detail and colours. Low-light shots are not too shabby but darker parts of the picture appear less sharp. The front camera has a fixed focus but does a decent job with selfies. The quality of video recording is slightly less impressive. In daylight, video quality is good but not indoors or in low-light.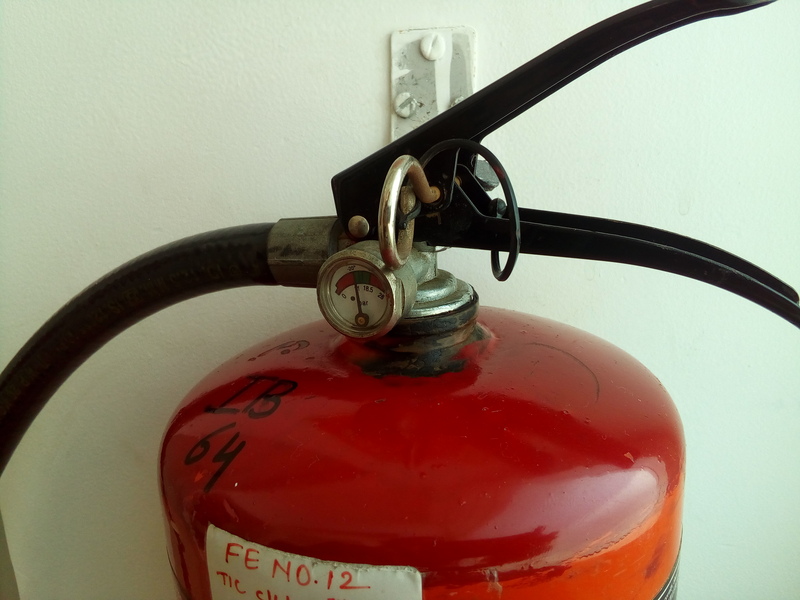 (Click to see full size)The Acer Liquid Z630s packs in a massive 4000mAh battery but we found that it doesn't translate too well to real-word battery life. We managed to get only 13 hours and 12 minutes in our video loop test, which is quite good, but we expected a lot more given the huge battery size. To put things into perspective, the Samsung Galaxy Note 5, which has a Quad-HD display, a much more powerful processor and a smaller battery delivered better results in our loop test. With normal usage, we found the phone lasted about a day and a half with a bit of calls, gaming and video playback.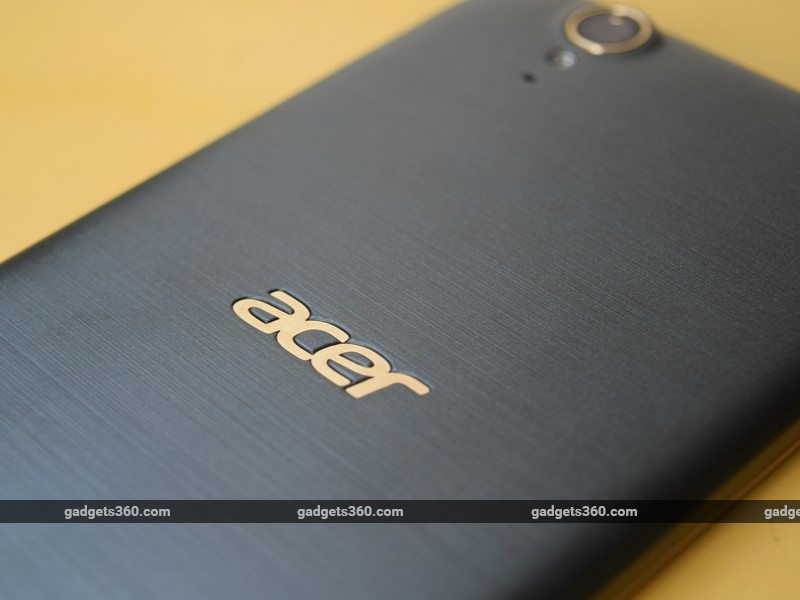 Verdict
The Acer Liquid Z630s is a bit of a mixed bag as some of its impressive specifications don't translate too well in the real world. It has a good build and good aesthetics, decent display quality despite the size and low resolution, smooth app performance, and a couple of useful bundled apps like AcerEXTEND and abFiles.
On the other hand, there's no 4G support for TDD-LTE carriers; the loudspeaker is a little weak for multimedia use; the rear camera struggles with details in landscapes; and the battery life could have been much better considering its mammoth capacity.
["source-gadgets.ndtv"]