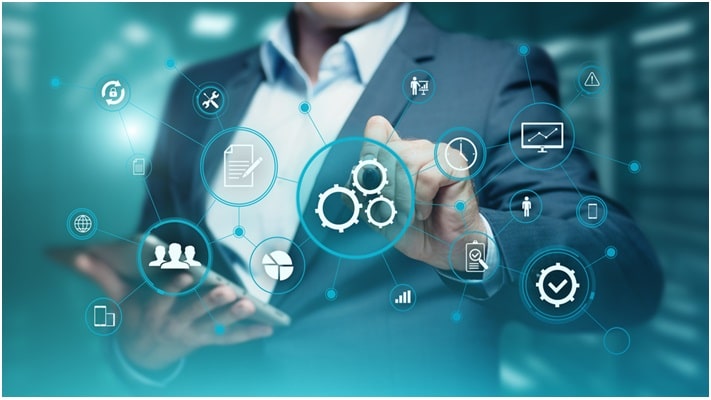 1With Web 2.0 and today's mobility of information technology, the wishes and requirements of users are changing. The latest news can be found on the web, as well as the nearest interesting locations.
Hotel reservations, travel bookings and many purchases have long since been handled on the Internet. The cloud is the general storage for our information. And there is much more to come.
Successful companies recognize these signs of the times and are already designing software for post modern business. Software that is simple and adapts to users – i.e. works in their context, makes suggestions and helps them to make decisions.
Differentiation in Modern Business
Information technology is the innovation driver for many industries and business areas.  For this reason, company management can expect proposals and concepts from their IT managers that will ensure the success of the company.
Admittedly, we are talking about strategic management. There is not always time for that in daily business. In order to be able to develop ideas as an IT manager, you need to engage with different disciplines (see Fig. 1):
the technological development and the possibilities that link the digital and real world and
exclusively the development of IT strategy patterns to create software solutions that bring innovation and differentiation to the business.
One thing is certain in any case: "If you start today with the orientation of your company towards modern business, then at best you will still be one of the fast followers!"
Against this background, almost all IT managers are asked to recognize the differentiation possibilities for their companies and to define tactical and strategic measures to bring the ship "IT" into the right waters.
Development of Modern Business
There are many forecasts for the future – the good thing is that not all of them come true. In modern business, "social media" (-marketing) is often cited. The basis for this is the enormous spread and reach of social networks and the associated open and hopefully honest handling of information. At the very least, reviews, comments and recommendations from people, services and products contribute to developing one's own point of view.
adapt to the user – get involved: by recognizing his relationship to the company, his current location, his current equipment, his environment, even his current emotional world
New Software Design Principles
Technical terms, such as BigData, OpenSocial, Gadgets or Apps on the one hand and new paradigms, such as Location Based Services, Context Awareness, Crowd Sourcing or Co-Creation on the other hand are often mentioned with the development of Software 4 Modern Business.
["source=widas"]