That's the kind of dangerous thinking that gets site owners into trouble in the first place. Most Google penalties are avoidable, provided the site owner does their due diligence to avoid the penalties. Don't wait until Google tells you to fix your link profile.
By that time, your site will likely have been de-indexed and you'll have to go through all the effort of putting in a reconsideration request.
Trust me, it's easier to avoid a Google penalty than it is to get back into the search giant's good graces. In this post you will learn how to avoid the next Penguin update with a comprehensive guide to cleaning up your link profile.
First, Actively Monitor Your Link Profile
You can't remove bad links if you don't know they exist in the first place. So, the first step in this process is to be actively monitoring your link profile.
Implementing a monitoring solution is necessary whether you believe you have bad links or not. If you have never intentionally been involved in spammy link building practices, that doesn't mean you have a squeaky clean link profile. Harmful links can come up of nowhere.
Over time, your site may have attracted low quality links whether it was your intention or not. Unless you're actively monitoring your link profile, you'd never know about these links.
Enter SEO SpyGlass. 
With the help of software like SEO SpyGlass you can easily audit your link profile and identify which links need to be removed. Not sure where to start? Just keep reading.
Run an In-depth Link Audit
Using SEO SpyGlass you can look at every link pointing to your site. From there, you can use a set of criteria to figure out which ones need to be removed.
First, open SEO SpyGlass. Next, enter the URL of your website and let the software do its work. You'll want to assess your entire link profile start with, rather than looking at individual links.
At a glance: Switch to Backlink Profile -> Backlinks and click the Statisticsbutton to get complete lists of TLDs, backlink countries, anchors, keywords, etc. for your whole link profile.
More in-depth: For a complete look at your overall link profile, follow these next steps.
Navigate toward the section called Summary, which is in the tab called Backlink Profile. Pay attention to the following factors:
Ratio of total links to linking domains: A link profile looks unnatural if it has an inordinate amount of links originating from the same domains. Aim for an even ratio, or at most only a few links from the same domain.
Ratio of dofollow to nofollow links: A link profile should primarily consist of followed links. Naturally, some nofollow links will be acquired, but followed links should prevail.
Amount of links from home pages: It's unusual and potentially unnatural to be linked to from someone else's homepage. Having too many links from home pages could be a red flag, perhaps indicating you've paid for these link placements. Look at each one of them closely to see how natural they are.
Countries of origin: Do you know where in the world your links are coming from? With a link audit you can find out, and you should aim for links from the countries you're specifically targeting with your website. It could be a red flag if your website serves an American audience, but the majority of inbound links pointing to your site from outside the USA.
Google PageRank: I know, Google is no longer updating PageRank, but it can still be a good indicator of the quality of domains. The higher the PR the better, of course. If you have many inbound links originating from domains with little-to-no PageRank, this could be an indication that their are too many low quality links in your backlink profile.
Please note that there's an option in SEO PowerSuite to use Moz PA/DA stats instead of the obsolete Google PR.
You can't replace Google PR distribution with Moz PA/DA right in theSummary tab we're exploring now. However, you can Page Authority / Domain Authority Distribution for your links in the Reports tab. To access these stats, edit your Backlinks Summary report by adding the Page Authority / Domain Authority distribution widget: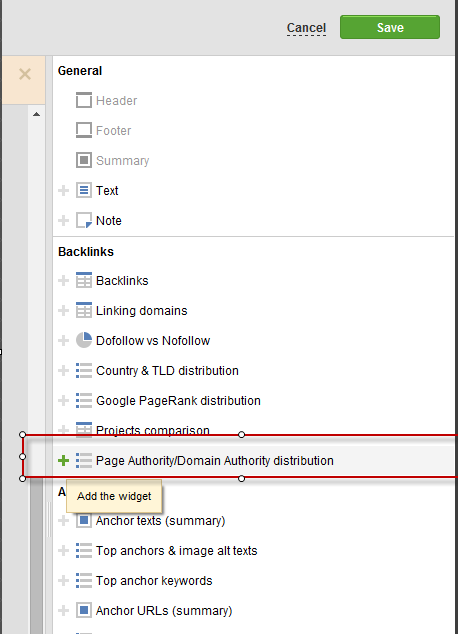 As a result, you'll get another way to evaluate the quality of the linking domains:
Anchor text and keywords: The words being used to link to your site can be just as harmful than the link itself. Anchor text should primarily consist of your domain name, or neutral phrases like "click here to learn more." Anchor text full of keywords could be grounds for a penalty.
Deep links to internal pages: How many links are pointing directly to your home page, versus other pages on your site? People aren't going to naturally link to your home page all the time, so if there is not a variety of links to internal pages this could be a red flag as well.
Identify Dangerous Inbound Links
After following the above steps you should now have an idea of the state of your overall link profile. Perhaps you could leave it at that if all signs point to a healthy link profile, but few of us are that lucky.
If you believe there is a cause for concern, here's how you can identify the individual inbound links that are harming your website.
Using SEO SpyGlass to Identify Penalty Risks
SEO SpyGlass can analyze inbound links by comparing them against the same set of criteria that Google uses.  Using this method you can easily pick out harmful inbound links then be on your way to having them removed.

In the Link Penalty Risks module of SEO SpyGlass, direct your attention to the Penalty Risk tab where you can identify links that may be harmful.
A good indicator of a bad link is one with anything higher than a 30 per cent risk value. An inbound link within the range of 30 per cent to 70 per cent range should be considered potentially harmful, and worthy of further investigation. A Penalty Risk exceeding 70 per cent should be viewed as very high, and links meeting this criteria should be removed without question.
Manually Check Questionable Links
Following the steps in the above section you should now have an idea of which links are safe to keep, which should definitely be removed, and which require further investigation.
In the Backlink Profile -> Backlinks module of SEO SpyGlass, click on the tab called Backlink Details. Go through each column and compare any questionable links found against the criteria I went over in the first section. To recap, that includes things like topic relevance, location, anchor text, quality of linking website, and so on.
Other things to look for: In addition to the criteria mentioned in the first section, here are some other things to look for when manually assessing inbound links.
Social signals: Social media signals can be one of the best indicators of how people actually engage with the content that's linking to you. This can also be an indicator of the quality of the page. In the Backlink Detailsmodule, check Facebook Popularity, Google+1's, LinkedIn shares, Pintrest bookmarks, and such to view how the pages linking to you are performing on social media. Please note that stats on Page Twitter mentions have stopped being available in SEO SpyGlass since Twitter discontinued the count feature:
Traffic Generated from Links: Navigate to the workspace called Traffic coming through backlinks. Here you will be able to view how much referral traffic your inbound links have brought to you in the past 30 days. This information can be found in the Visits to Your Site column.

You can keep this factor current yourself by syncing it with your Google Analytics data. To do this, go to Preferences -> Preferred Backlink Factors, select Visits to Your Site, and click OK.
Switch to the tab called Traffic coming through backlinks, select your inbound links and click on Update factors, then select Visits to Your Site one more time. Now you can provide your login info for GA. SEO SpyGlass will then sync with Google Analytics in order to collect the traffic data you need. 

Make Note of Which Links to Keep, and Which to Remove
You can keep track of which links you want to keep, and which ones you want to remove, right within the software itself. In the Tags column of theBacklink Details module you can add any notes you'd like.
Use the tags feature to make a note of any further action required on the link. This could include actions such as contacting the webmaster, disavow right away, or keep.
Tag your links by right-clicking on them and choosing Add tags to selected record.
Commence Link Takedown
The Outreach Method
After identifying the harmful inbound contained in your link profile, you can now commence link takedown! The first line of defence is contacting the site owners and requesting to have the links taken down. You can either do this the hard way by going to each site and trying to dig up the contact details. Or, you can do this the easy way using SEO SpyGlass.
Easily Find Contact Information Using SEO SpyGlass:

Under Preferences, go to Preferred Backlink Factors and click Contact Info.
Click OK. Open the workspace editor by right-clicking any column.
Now you can add a new column called Contact Info to your workspace. Double-click Contact Info from the list of columns available, and click OK.
Select all the backlinks you need the contact information for, click on Update factors, and click Contact Info.
The newly added column will now fill itself in with site owners' email addresses, provided the addresses are listed on the website.
The next step is to email these webmasters. Send out emails to webmasters by copying the contact information found by the SEO SpyGlass software.
It's easy to do this individually if the amount of harmful links you found was low. You may want to use a template if you found a significant amount of harmful backlinks.
However you reach out to these webmasters, here are a few tips to keep in mind:
Introduce yourself, mention what you do and who you're representing (e.g. SEO strategist on behalf of X company).
Explain your intentions. Tell them how you either want to prevent a Google penalty, or you're trying to recover from one, and it would help if a link on their site was removed.
Be specific about which page of the site the link was found on. Provide the URL.
Above all, be friendly. Coming off as confrontational or aggressive is a sure way to make the site owner less likely to cooperate with you.
The Disavow Method
What happens if the outreach method fails? Your next line of defence is to disavow! The disavow method is also recommended if there is an abundance of harmful links originating from the same domains.
If this is the case, don't bother disavowing every single link. Disavow the entire domain. Adding links to your disavow list can be done right within the software. Choose the inbound links to disavow, right-click your selection, and select Disavow backlinks.
A menu will pop up asking whether you want to disavow just the individual backlink, or the whole domain (Linking Domain). After selecting all the links you wish to disavow, go to Preferences -> Disavow/Blacklist Backlinks.
When satisfied with the disavow list you have created, click on theExport button and choose which folder you wanted to save the list to. With the raw list of links obtained you can then upload it to Google's disavow tool.
Be Careful! Keep in mind that every time you upload a new disavow file it overwrites the previous one. If you have disavowed links before, make sure those links are included in the new file you are about to upload.
What Happens Now?
You've gone through the painstaking process of identifying harmful backlinks, either having them removed or disavowed, but there's one step left to do.
Keep monitoring!
Disavow files are processed reasonably quickly after being uploaded, but that doesn't mean your days of worrying about spammy links are over.
You never know where your next link is going to come from, so you have to be proactive in keeping your link profile clean.  Google never stops checking for spammy links, so neither should you.
["source-searchenginejournal"]