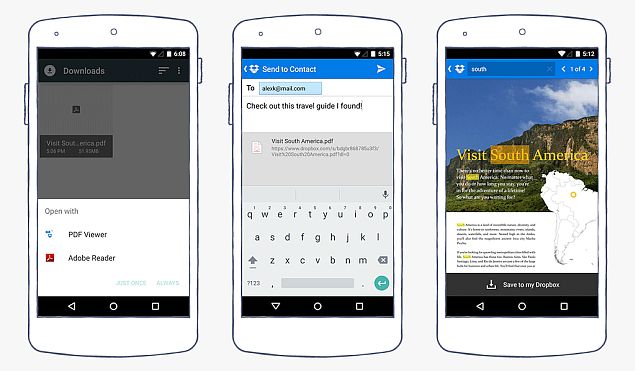 Dropbox has announced an update to its Android app that adds a pdf viewer and in-document search for various files. The company announced the update on Thursday in a tweet and said, "Our updatedAndroid app includes a pdf viewer and in-doc search"
The cloud storage company on its official blog confirmed that the latest update to its Android app will be rolling out to the Google Play over the next few days. At the time of writing, the Dropbox Android app had not yet been updated on Google Play India.
The pdf viewer feature in Dropbox for Android provides previews for all pdf files, "regardless of whether or not they started in Dropbox," the company said in its blog. The company explains that any pdf file saved on the phone can be viewed via the Dropbox app, even when offline. Additionally, consumers can share pdf files via Dropbox by automatically generating a link to the file.
Additionally, the Dropbox update for Android brings in-document search within pdf files, apart from Microsoft PowerPoint and Word files. The blog explains, "If you want to find a specific clause in your thirty-page apartment lease, just pull up the file and search for a keyword. The app will return a list of all the places that keyword appears in the lease document, so you can find the best result and go straight to that section."
Dropbox last month announced a new feature for both its Android and iOS apps, aimed at helping improve the productivity of users. The new function allowed users to open shared Dropbox links within the Dropbox Android and iOS apps. Previously, the shared links opened in the mobile browser, consuming more time.
["source-gadgets.ndtv"]