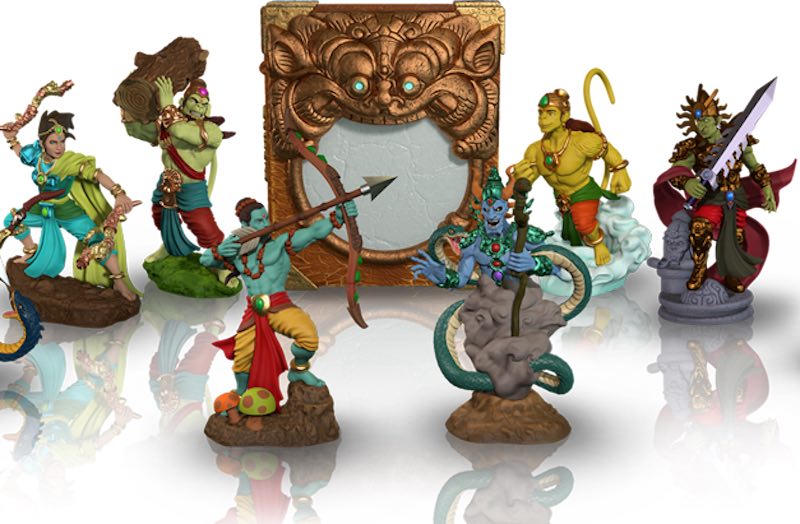 The toys-to-life category is a relatively new one that picked up steam in the US just about five years ago, and brings together physical toys and video games. Essentially, you can use real life toys to unlock in-game content that varies from game to game. For example, Nintendo's Amiibo figurines can be used with Splatoon for the Wii U to grant players access to a lot of single-player content. With the Wii U version of Super Smash Bros., the Amiibos open up new levels and costumes, and you can save your character data to the toy, turning your Amiibo into a portable memory card of sorts.
Aside from Nintendo, Activision and Disney both have a large stake in the category with their Skylanders and Disney Infinity toys. Warner Bros. is a late entrant with Lego Dimensions. Skylanders alone is estimated to be worth 3 billion dollars. So it's perhaps no surprise that someone is now experimenting with the model as well, with changes to suit Indian sensibilities.
Which, in this case, means toys and games set within the Ramayana, thanks to California-based Gamaya, which recently launched its Android and iOS game Gamaya Legends. It's set in the Ramayana, and your adventures will take place against the backdrop of this mythological epic. Aside from this, Gamaya has also launched a number of toys you can buy, which connect to the game via Bluetooth. Doing so lets you unlock a character to use in-game which evolves as you keep playing.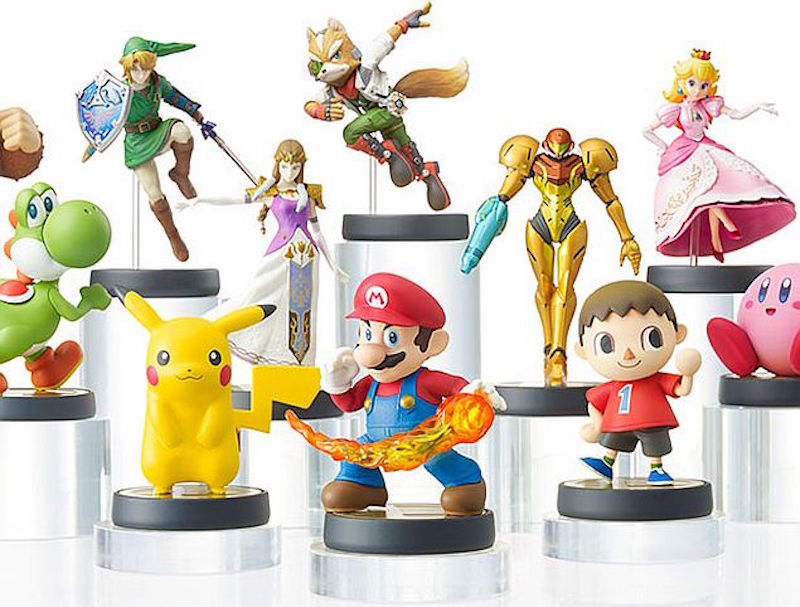 (Also see: Nintendo Launches Subscription Service for Amiibos; 2DS Gets New Colours)
"As a kid I listened to many stories from my grandmother that inspired and entertained me. As a parent I want my kid to have the same experience but today's kids are harder to please – they are used to slick animation and engaging games," says Gamaya CEO, Narayanan Vaidyanathan. "For most parents, the story seemed similar; how can we help kids connect with culture? So we set out to create an experience that spoke in a language our kids understand – a highly engaging presentation that blends the real and the virtual worlds."
An old hand at Electronic Arts, Vaidyanathan was the technical director for the MySims franchise. Through Gamaya Legends he "seeks to rekindle an interest" in the stories of the Ramayana.
"The elegance of great epics like the Ramayana is that it is wrapped up in multiple layers," he explains. "There is the adventure, magic, and pure storytelling aspect. Then there are the religious and moral aspects as well. Each of these layers appeals to a different part of our psyche."
At the same time, religion is a hot-button topic in India, and Gamaya has to balance creativity and religion. Vaidyanathan says it's all about being careful not to offend sensibilities.
"We have taken great care to show the characters from the Ramayana in the great light through our design and production quality, so they get the respect they deserve," he believes. "The religious and moral aspects are personal choices of families and kids, and we don't want to interfere with that."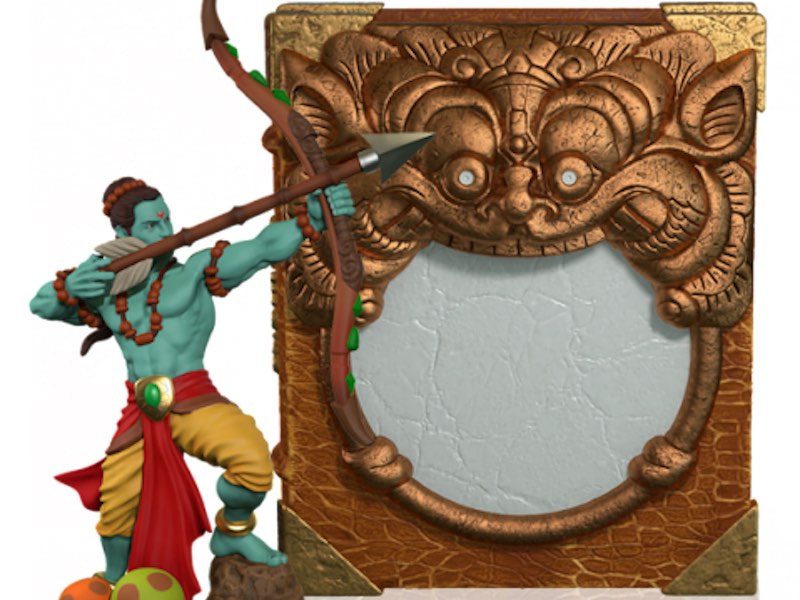 That's also why, though the game is based on the Ramayana, you aren't playing one of the characters from mythology. Rather, you're on a mission to ensure that the epic exists.
"In the Gamaya Legends game, you are not playing the Ramayana but you are saving it. A sinister evil is trying to destroy the legendary scrolls that represent the Ramayana," he elaborates. "The characters from that world have been brought into our world to protect them from this evil. In our world these are but lifeless toys but you as the player have the power to send them back into their world, fight this evil and restore the legend."
The idea, according to him, is to give kids "a window into the original story." It also allows Gamaya to enhance the game with lore known to experts in Hindu mythology.
Selling Gamaya Legends
Unlike most startups, employees at Gamaya aren't fresh out of college. Rather, it's helmed by video game industry veterans who have worked at studios such as Electronic Arts, LucasArts, and Activision.
"The experience the team and founders have in the games industry was essential in quickly crafting the core experience and making sure it is fun," he professes. "We also partnered with Woohing, a 40 year veteran toy company based in Hong Kong to produce the highly detailed toys."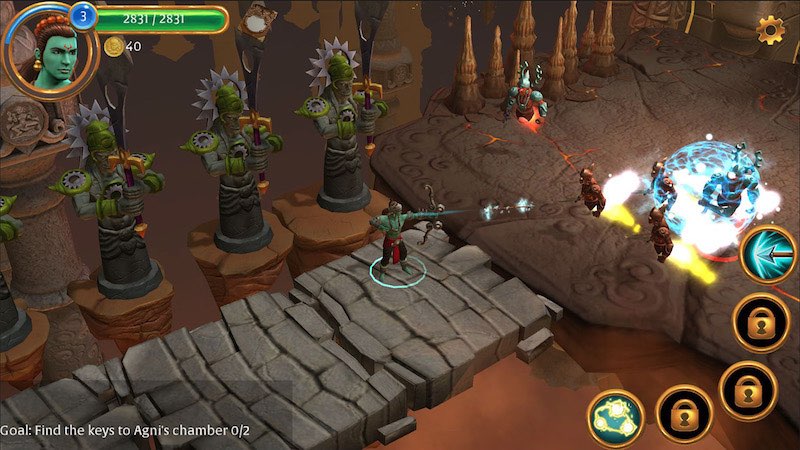 (Also see: Skylanders: Swap Force review)
It's a bold move, as the toys-to-life category is pretty much non-existent in India. Barring a few token attempts by distributors to bring in Activision's Skylanders range, and parallel imports of Amiibos, there's been very little to show in India. Vaidyanathan is aware of the challenge of being one of the first to market. He's hopeful that the quality of the game and toys would be enough to drive interest.
"The trick now will be in working with the right channels and arriving at the right price points to get wider market acceptance," he affirms.
For now though, the Gamaya toys will only be available online. You can purchase them from eitherAmazon India or Gamaya's own website. "There were a few reasons. The core of our target market is connected families and with e-commerce on the rise in India, it felt like the right channel to start with," says Vaidyanathan. "Also given our tight launch schedule (we only had 5 months of production) it was not possible to engage with traditional retail channels. We do however want to augment our current launch with physical retail in the near future."
Next, Gamaya plans to sell toys individually. At the moment you can only purchase the starter pack that has 10 characters. Plans for a sequel are also in the works as well as a launch for international markets.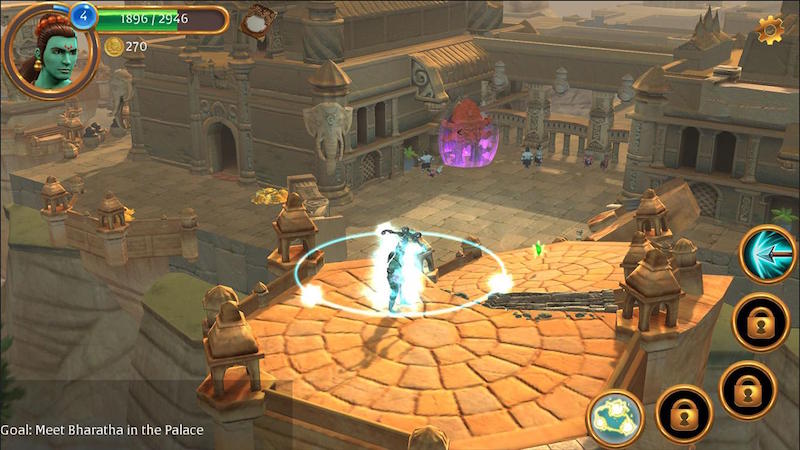 What's interesting though, is its strategy for in-app purchases for the game. A quick check on Google Play shows the IAPs selling for a staggering Rs. 988.70 upwards. Vaidyanathan states this was intentional.
"The IAP on Android are equally priced as the physical toys [that unlock the same IAP]," he points out. "This is so as to not devalue the physical game itself as the whole point is the engagement between physical and virtual worlds." It's on the higher side considering that revenues on IAPs in India are problematic for most developers. So much so that stalwarts like Rovio have struggled here.
Nonetheless, it is early days for Gamaya, and Vaidyanathan wants to extend its grip on tales of yore with his sights on the Mahabharata next, though he doesn't rule out other genres and moving beyond mythology either.
"We will include licensed IP and expand into other genres like sports in our future products," he states. "[But right now] Our goal is to focus on the adventure, magic, and storytelling aspects and to inspire the next generation of kids with a highly interactive experience."
["source-gadgets.ndtv"]