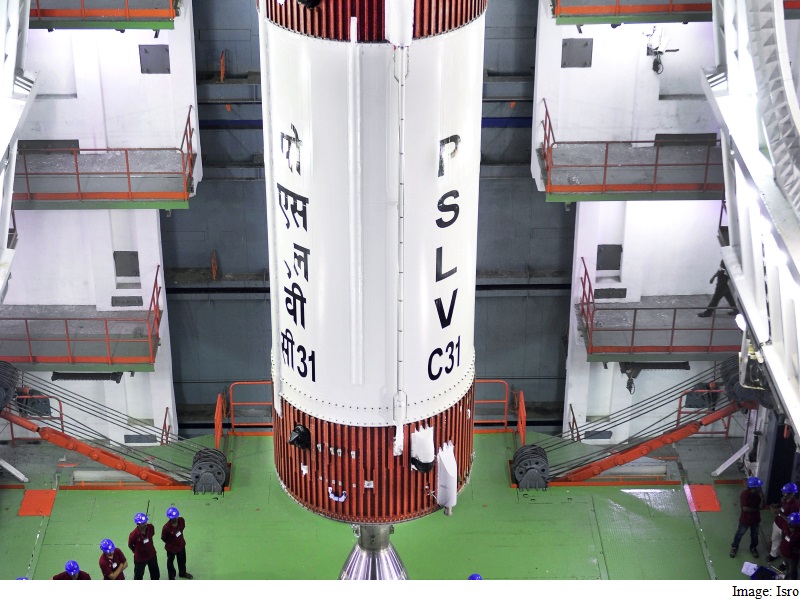 The 48-hour countdown for the lift of an Indian rocket – the first one for 2016 – with the country's fifth navigation satellite as the sole passenger began at 9.31am on Monday, senior Isro officials said.
"The 48-hour countdown for the launch of rocket Polar Satellite Launch Vehicle (PSLV-31) carrying Indian Regional Navigation Satellite System-IRNSS-1E began in the Sriharikota rocket port in Andhra Pradesh," senior official at Indian Space Research Organisation (ISRO) told IANS.
The rocket is expected to blast off at 9.31 a.m. on January 20 to put into orbit the 1,425 kg IRNSS-1E satellite.
Till date India has launched four regional navigational satellites (IRNSS-1A, 1B, 1C and ID) as part of a constellation of seven satellites to provide accurate position information service to users across the country and the region, extending up to an area of 1,500km.
Though the full system comprises of nine satellites – seven in orbit and two on the ground as stand-by – the navigation services could be made operational with four satellites, Isro officials had said earlier.
Each satellite costs around Rs. 150 crores and the PSLV-XL version rocket costs around Rs. 130 crores. The seven rockets would involve an outlay of around Rs. 910 crores.
The entire IRNSS constellation of seven satellites is planned to be completed in 2016 itself.
The first satellite IRNSS-1A was launched in July 2013, the second IRNSS-1B in April 2014, the third on October 2014 and the fourth on March 2015.
Once the regional navigation system is in place, India need not be dependent on other platforms.
According to Isro, IRNSS-1E carries two types of payloads – navigation and ranging payloads.
The navigation payload of IRNSS-1E will transmit navigation service signals to the users. This payload will be operating in L5-band and S-band.
A highly accurate Rubidium atomic clock is part of the navigation payload of the satellite.
The ranging payload of IRNSS-1E consists of a C-band transponder (automatic receivers and transmitters of radio signals) which facilitates accurate determination of the range of the satellite.
IRNSS-1E also carries Corner Cube Retro Reflectors for laser ranging.
On January 20 at 9.31 a.m. the PSLV-XL version rocket standing 44.4 metres tall and weighing 320 ton would blast off from India's rocket port at Sriharikota.
Just over 19 minutes into the flight the rocket would put into orbit IRNSS-1E at an altitude 503.3 km.
The satellite's life span is 12 years, the Isro official said.
The Indian space agency's mission readiness review committee (MRRC) and the launch authorisation board (LAB) on Sunday gave the green signal for the Wednesday's rocket launch.
["source-gadgets.ndtv"]