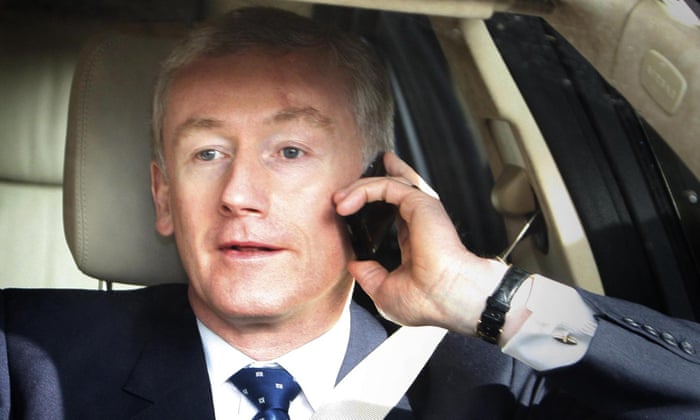 Fred Goodwin, the former RBS chief executive, left the bank in the wake of the 2008 bailout. Photograph: Danny Lawson/PA
A judge will learn this week if a multimillion-pound settlement has been reached that would keep the former Royal Bank of Scotland chief executive Fred Goodwin from having to appear in court.
Goodwin has been called to give evidence in the long-running legal battle brought by thousands of investors who argue they were misled into buying the bank's shares in a £12bn cash call in April 2008. The bank was bailed out six months later, leaving the shareholders nursing losses.
Their claim for £520m of compensation had been due to begin in the high court last Monday but was adjourned to allow the bank and shareholders to try to thrash out a settlement thought to be worth around £200m.
While the court will not sit this week, Mr Justice Hildyard wants an update on Tuesday and asked to be told on Thursday if a settlement could be reached. The court is adjourned until 7 June.
The judge has been told that "progress is being made on a settlement" though some investors are being described as "diehards" who do not want to do a deal with the bank because they want to hold former senior managers to account.
The investors are bringing their claim against RBS, Goodwin and three former directors. The last time Goodwin – who left RBS in the wake of the 2008 bailout – accounted for his actions in public was in February 2009 when he had appeared before MPs and issued a "profound and unqualified apology for all of the distress that has been caused".
It has been reported that the businessman Trevor Hemmings, who owns Preston North End football club and is helping cover the shareholders' legal costs, is willing to accept the RBS settlement.
Last December, RBS announced that it had £800m to share among the various factions bringing claims relating to the April 2008 cash call. The bank has settled with 87% of them without admitting liability but to "minimise material litigation expense and management distraction".
["Source-ndtv"]