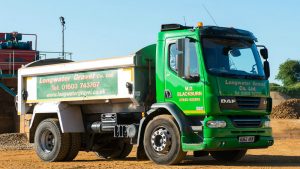 Kerridge Commercial Systems has announced that Longwater Construction Supplies Ltd and Longwater (South East) Ltd will deploy K8 ERP system. Surprisingly it has opted to deploy the solution on-premises. It will support 30 users at Costessey.
Longwater operates across four locations. In addition to its head office at Costessey it has three quarries at Coxford Abbey, Horstead and Wymondham. The sites produce different aggregates that the company then delivers to clients across the East of England. The decision to purchase an on-premises solution seems unusual but there is no indication why it made that decision in the press release. KCS like other companies are moving their software to the cloud. This often allows companies to update their software with little disruption. In taking the application on-premises the update process becomes a lot more complicated.
Why K8?
The project sponsor was Colin Clark, Finance Director, Longwater Construction. He realised that their legacy ERP solution did not have the capacity to help the company grow. His ambition is to expand geographically and to add additional products. The choice of K8 was influenced strongly by internal staff who had worked with the product before and competitors who are current uses. Clark commented: "The KCS offering had a great reputation and was regarded as the market leader by other merchant business owners we questioned." He added: "K8 was well known to many of us, as some of our team have used it in previous merchant roles."
It was not the only option that Longwater considered. It also looked at upgrading its existing system and solutions from other providers. However, the decision came down to trust. Clark added: "The promise of what K8 will deliver is great and we fully believe that all promises made to us will come to fruition."
K8 offers the ability to analyse performance by product groups and by customer. There is an expectation that the solution will assist management at determining which areas it should take more advantage of. For example, the analytics will easily determine which product lines are more profitable.
What does this mean
That Longwater has selected a system based on internal knowledge and peers is interesting. It did go through a selection process but it seems as though the process was quite light. What is strange is that it opted for an on-premises solution rather than cloud-based. How the implementation goes and whether Longwater change their decision on cloud is yet to be seen. There are fewer and fewer justifications for selecting an on-premises solution every year.
Source:-enterprisetimes.