HIGHLIGHTS
The compact form factor makes the Nokia 8 Sirocco comfortable to grip
It's built from stainless steel and powered by the Snapdragon 835 SoC
The Nokia 8 Sirocco is priced in India at Rs. 49,999
HMD Global has a pretty interesting smartphone lineup for 2018. All of its mainstream and high-end offerings are part of Google's Android One programme, which means you're guaranteed to get regular security updates and major Android version updates for two years. This in itself is a big deal, considering how most Android smartphone manufacturers struggle to keep up with Google's update cycle. Out of the new Android One Nokia smartphone family announced during MWC 2018, we've so far reviewed the Nokia 7 Plus (Review) and the new Nokia 6 (Review), and both have managed to impress us with their performance considering their respective price points.
Today, we'll be reviewing the Nokia 8 Sirocco – a special edition of last year's Nokia 8 (Review) smartphone that's an ode to the original Nokia 8800 Sirocco. With exotic materials also comes a higher price tag. This special version of the Nokia 8 is priced at Rs. 49,999, which puts it in Google Pixel 2 (Review) and HTC U11 (Review) territory. So, is the new Nokia 8 Sirocco just a pretty face or does it have enough substance to justify this premium pricing?
Nokia 8 Sirocco design
The packaging doesn't feel like anything special. This phone ships in a similar box as the Nokia 7 Plus. Inside, you get a pair of Type-C headphones, as the Nokia 8 Sirocco doesn't have a 3.5mm headphone socket. There's also a dongle, in case you wish to use your standard pair of headphones with the phone. What's a bit disappointing is the plastic case that's also bundled, which looks very ordinary, considering how good the phone looks. HMD Global seems to have the nailed the luxury factor here as the glass back and shaved-down bezels make the Sirocco look quite stunning. It's a slim phone too at just 7.5mm. The body is made up of stainless steel, which can be seen through some of the edges on the phone. This also contrasts well with the black body.
The side panels of the body are a bit thin but despite this, we found it quite comfortable during daily usage. The phone is wider than most recent offerings, which have adopted the newer 18:9 aspect ratio. This makes reaching most portions of the display much easier, however those with smaller palms won't find this wider aspect too comfortable. The 5.5-inch display has a Quad HD pOLED panel with Gorilla Glass 5 and tapering edges towards the left and right, similar to the Samsung's flagship offerings.

While this works in favour of the phone's aesthetics, the curvature of the glass refracts light, which causes a vertical blue band that's visible against white backgrounds. This also impacts other newer phones like the Samsung Galaxy S9 (Review), but it's not as noticeable on them as it is on the Sirocco. The buttons have also been designed to sit nearly flush with the phone so it's not easy to tell the power and volume buttons apart without looking directly at them. Lastly, the colours produced by the pOLED display look oversaturated, especially the greens and reds, and there's no way to tweak the colours in the Settings app either.
There's a single SIM card slot on the bottom right edge of the phone. At the bottom, we have a USB Type-C port and a single speaker grille. There are three microphones placed around the phone for capturing spatial audio. The glossy finish on the back is a big fingerprint magnet but surprisingly, we didn't find it to be too slippery. The fingerprint sensor works well and just above it, we have a vertical dual camera setup and the dual-tone, dual-LED flash. Overall, the Nokia 8 Sirocco looks brilliant and is by far, HMD global's most exquisite offering yet.
Nokia 8 Sirocco specifications and features
While the phone definitely looks the part, the internals might disappoint those who expected the latest and greatest offering from Qualcomm. It doesn't have the Snapdragon 845 mobile platform, but instead, rocks the tried and tested Snapdragon 835. This is not necessarily a bad thing. The Snapdragon 835 has proven its worth and even after a year, it still runs the latest version of Android like a champ.
Along with this, you also get 6GB of LPPDDR4X RAM and 128GB of USF 2.1 storage. The latter isn't expandable but we feel that shouldn't worry most people. You also get other newer specifications like Wi-Fi 802.11 ac, Bluetooth 5, support for multiple navigation systems, 4G VoLTE and sensors like Hall, barometer, among the usual others. The phone also supports the Qi wireless charging standard and is IP67 rated for proper dust and water resistance, unlike its predecessor which was only IP54 rated.
As we mentioned earlier, one of the advantages of being on the Android One programme is that you aren't left behind when it comes to updates. The Nokia 8 Sirocco ships with Android 8.1 Oreo, and during our review period, got the latest April security patch. The interface is mostly stock Android. Swiping right takes you to the Google Now feed, while a swipe up on the home screen takes you too all your installed apps. There's no bloatware at all here, which is a refreshing change from a third-party Android phonemaker. HMD Global only has a Support app, which lets you access the user guide, engage with chat support, or find the nearest service centre.
There are a few motion gestures thrown in too like the ability to flip the phone over to mute a call or double-tap the power button to open the camera app. The Display sub-menu also has something called Glance Screen, which lets you view the time, notifications, alarm or a calendar event without powering on the screen. This is essentially an 'Always-on' display that other OEMs have implemented too for smartphones with OLED displays.
Nokia 8 Sirocco performance, cameras, and battery life
Thanks to the ample RAM and lack of any major UI customisations, Android simply flies on the Nokia 8 Sirocco. On average, we found ourselves having about 3.5GB of free RAM at our disposal. The one thing we've come to love about the Snapdragon 835, apart from its brute strength, is the fact that it's super efficient in running heavy apps.
Benchmark numbers are solid as AnTuTu posted a score of 209,869, but even in real-world games, the Nokia 8 Sirocco doesn't miss a beat. Heavy titles like Asphalt 8: Airborne, Dead Trigger 2, and even PUBG (Review), run smoothly and with steady frame rates. The glass back doesn't get too hot either and we noticed that even after a 30 minute session of Asphalt 8, the battery only dipped about 10 percent. Call quality is good and the earpiece gets sufficiently loud even in we used it in noisy environments.
The curved edges of the display didn't really bother us too much when watching videos and they don't get in the way too much when typing either. They don't really serve any other purpose though, other than to enhance the aesthetics. Videos look great and it's nice to have them fill up the entire screen without sacrificing some portions of the edges, like they typically do on wider displays. Audio performance through the loudspeaker is good too, even though it feels one-sided. Audio performance through the bundled headphones is good too, although the plastic portion just after the connector which has the circuitry gets a little warm after a bit. 4K videos look crisp and so does text in webpages. The exaggerated colours aren't for everyone and after a while, it starts to feel jarring.
The Nokias of old prided themselves on having Carl Zeiss optics in their cameras, and last year, HMD Global rekindled that partnership once again. The Nokia 8 Sirocco features a primary 12-megapixel sensor with a wide f/1.7 aperture but lacks optical image stabilisation (OIS). The website claims that the second telephoto camera has a 13-megapixel sensor, however all the photos are saved at a 12-megapixel resolution. The lack of OIS is disappointing, which could have helped stabilise low-light shots better, but during the day, we didn't really miss it too much. Most of the shots we captured, even from a slow-moving vehicle, were sharp, thanks to minimal shutter lag.
Autofocus speed is also very good in daylight. Landscapes are well detailed, with balanced colours and exposure. The Auto HDR feature works well but you don't get any visual cue on-screen when it's working. Macros are well defined too, with a nice level of background blur although we would have liked slightly better definition around the edges of our subject. In low light, the wide aperture manages to capture good dynamic range but the second telephoto sensor doesn't fare too well here when it comes to details and noise is visible.
There's a Live Bokeh mode, which uses the telephoto sensor for shooting portrait shots. You can adjust the level of blur but on the Nokia 8 Sirocco, we found this mode to be incredibly glitchy. Unlike on the Nokia 7 Plus, it refused to give any visual indication if we were too close to our subject or when it successfully applied the effect. At times, the camera app wouldn't save the picture and the only way around this was to restart the phone. In post, you can re-adjust the level of blur and also change the focus point.
Beautification mode works well and so do other shooting modes like panorama and Pro mode. The 2x mode works just like on any phone with a second telephoto lens. The camera app automatically switches to this if there's sufficient light, and this works for stills and videos.
Like most other Nokia smartphones with two cameras, the Nokia 8 Sirocco also has the Dual Sight or 'bothie' mode, which lets you shoot with the front and rear cameras simultaneously. You also have the option to live stream this to YouTube or Facebook. Video recording maxes out at 4K but there isn't any stabilisation in this mode as that's only available up to 1080p resolution. This is done electronically so the output does have a bit of a 'shimmer' effect, which is evident when you're shooting handheld. You can add stabilisation to 4K files in post, via the Google Photos app, but the final result isn't always very good. The front 5-megapixel camera captures decently detailed selfies during the day but in low light, this is predictably less, even with the screen flash.
We are happy with the battery life delivered by the Nokia 8 Sirocco. The 3260mAh easily lasted us an entire day with medium to heavy usage. If your usage is a little more conservative, you can push this a little beyond a day too. There's fast charging support and we managed to match HMD Global's claim of getting a 50 percent charge in 30 minutes.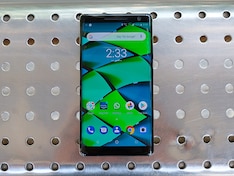 Nokia 8 Sirocco in pictures
Verdict
The Nokia 8 Sirocco is currently HMD Global's flagship offering but that might not be for long. You see, this phone is a bit of an experiment, according to the company, which means we still haven't seen HMD Global's true flagship for 2018. This would most likely be called the Nokia 9, which according to the most recent leak,  should have a pretty extravagant camera setup in order to take on the likes of Huawei P20 Pro.
This Sirocco edition is all about style and luxury and in that sense, HDM Global has done a fantastic job. It might have come at a small cost to some ergonomics like the design of the buttons, but all in all, the phone fantastic. App performance is also good, the phone checks all the boxes for waterproofing and wireless charging. The camera, although not class-leading, performs decently well.
All this stainless tell goodness does come at a price, and it's a rather steep one at Rs. 49,999. This is something that might put people off a bit, especially when you can get the Google Pixel 2 for a similar price or even the HTC U11, for a bit less. If you're only looking at the SoC alone, then there's the trusty OnePlus 5T (Review) too, which offers better value at a much lower price. The one thing that the Nokia 8 Sirocco nails though, is the marriage of high-quality materials and a compact form factor, which is hard to beat. If aesthetics is on the top of your checklist when buying a phone, then this makes for a good candidate. For almost everything else though, Google or HTC's offerings would typically be a better fit.
For the latest tech news and reviews, follow Gadgets 360 on Twitter, Facebook, and subscribe to our YouTube channel.
Nokia 8 Sirocco
Design
Display
Software
Performance
Battery Life
Camera
Value for Money
Good
Comfortable to hold and use
Speedy app and UI performance
Up-to-date software
Good battery life
Bad
Oversaturated screen
Glitchy bokeh mode
Read detailed Nokia 8 Sirocco review
Also See
Apple iPhone 8 (Gold, 64GB)

*Includes Rs. 6,500 cashback

Samsung Galaxy S III (16GB)

Apple iPhone 6 Plus (Silver, 128GB)
["Source-gadgets.ndtv"]