Introduction
OnePlus invented the 'flagship killer' space and then slowly retreated from it, step by step, year after year, to the point where its flagships are now proper top of the line (and expensively priced) devices. Not much remains of the ethos that the company started out with, but you can definitely see traces of it in the OnePlus Nord 2, much more so than in its predecessor, the original Nord.
Unlike that one, the Nord 2 has an almost flagship chipset, diverging slightly from the 'flagship killer' formula but not that much really – especially for all but the most avid of gamers. The rest of the phone's specs are all clear compromises intended to reach a price point (aside from the main camera and charging speed). But the question we have in mind is how all of these compromises, plus the 'close enough' SoC and the top tier main snapper and charging speed, actually come together in the finished product that is the Nord 2.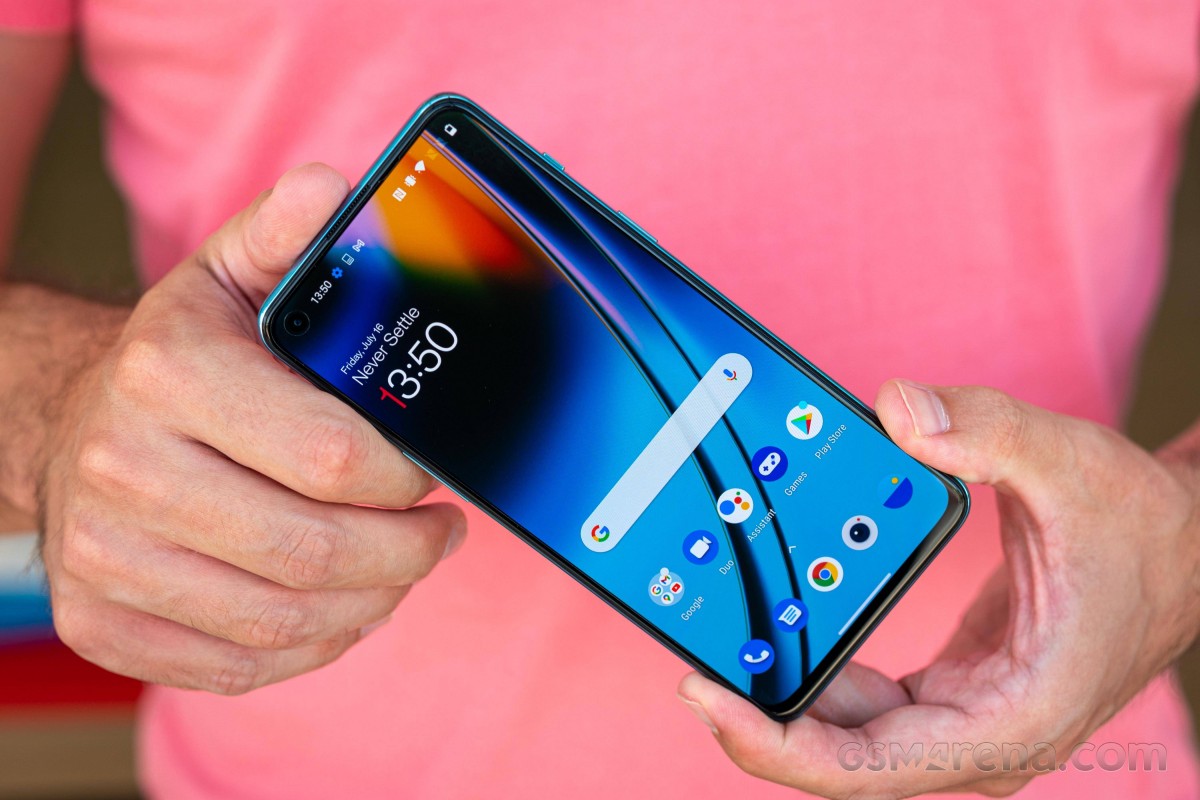 Is it more than a sum of its specs, or can it not rise above them? This definitely isn't a 'flagship killer' in the traditional sense, but it's not an average mid-ranger either by looking at its spec sheet. Instead, it seems to occupy an intriguing space in-between those two categories. Is OnePlus once again creating (or, better put, inventing) a new and innovative smartphone tier? Or is it just trying its best to offer cheaper handsets than its flagships have come to be, in order to serve those hungry for a flagship killer, something that is anything but?
With these questions in mind, we started our long journey with the OnePlus Nord 2, using it as our one and only smartphone for an extensive period of time in order to find out just what it is, whether it makes sense as a product (and to whom), and how enjoyable it is to use in day-to-day activities, far from the confines of a lab. If you're interested in what we found out, join us over the next few pages as we lay out our experience, with the positives and the negatives both in full view.
Design, handling
From the front, the OnePlus Nord 2 is a modern smartphone released in the past two years or so. That's the vibe you get, and it's perfectly fine, but nothing special – it really doesn't stand out at all. This is a common theme with most devices these days, we're not singling it out for it, just noting that it won't turn any heads unless you haven't seen an Android smartphone for a few years.
The backside is a little bit different, though. Close enough in design to many recent phones (especially from the Oppo / vivo / Realme stable), but distinct enough that it doesn't fully feel generic without actually going to the other extreme (of standing out on its own) either.
It's a nicely done design that is not revolutionary in any way, but the execution still deserves praise. Our review unit's Blue Haze hue is indeed something to behold, and we appreciate the fact that it doesn't seem to show fingerprints at all. That usually comes with a matte finish, but this one looks shinier (for lack of a better word) than your average run-of-the-mill matte finish. But it's not exactly glossy either.
It's a very interesting in-betweener, and that may just prove to be the theme of this whole review because that could, in fact, be the best way to think of the OnePlus Nord 2 as a whole. All of this means the Nord 2 is slippery but far from the worst offenders in this area – while also not being among the least slippery devices we've long-term reviewed.
The camera island… is a camera island, and it serves its purpose. It houses cameras. And a flash. It looks nice but isn't the best we've ever seen. It fits in elegantly with the rest of the rear, and overall the phone's design seems to give off a vibe of well thought through, but not excessive in any way. The back glass curves to the sides unlike the screen, and this gives the handset a slimmer feel. The plastic frame is glossy and can get fingerprinty as a result, except it's not something you're usually actively looking at, so you may not notice.
The screen element seems to sort of sink into the frame, when you look at it from the front, and that gives the handset a more premium look than your average mid-ranger which has the screen panel sitting on top of the rest of the hardware. The difference is very subtle, though.
Unlike cheaper Nords, this one retains OnePlus' trademark alert slider, and we're very happy for that (and still can't figure out why no other Android device maker, not even Oppo, which is now merged with OnePlus, has copied it). It's such a good user experience to quickly be able to physically toggle a switch between the three alerting modes, without having to unlock the phone or look at the screen or anything like that. What's more, you can just glance at the position of the slider and instantly figure out which alerting mode the handset is currently in.
Handling is great, owing to the Nord 2's smaller dimensions and lighter weight compared to most devices nowadays. It's only 2-3mm narrower than the prototypical mainstream Android phone, but that does improve handling a lot, and that's especially true for people with smaller hands. An added aid is that it's also less tall than most other handsets, which makes reaching for things at the top of the screen ever so slightly easier.
Don't get us wrong, we still wouldn't call this a small phone, but it's refreshingly smaller than most and a lot of people might like that. This reviewer goes with "the bigger the better" rule of thumb, but the Nord 2 isn't so small as to become a nuisance even for such a person. So, you could say it's in an interesting middle position between small phones and big phones. It's that theme again.
Case
Unsurprisingly for a Chinese phone, you get a case in the box, and this one is a bit better than the usual jelly case that tends to get bundled. It feels sturdier and, while mostly transparent, it does have a neat arrow-like part that's slightly matte. It seems pretty protective, too, but we haven't really dropped the Nord 2 during our time with it so we can't tell you whether it would survive a drop when it's in the case – though we don't see why not.
Additionally, even though this isn't a 'proper' flagship, OnePlus continues its tradition of offering a bunch of different cases that you can purchase separately, and that is something we really appreciate. Reputable third-party case makers usually focus on the most popular models from the most popular brands only, so many times if you buy a more 'exotic' phone (its degree of exoticism being tied to the particular country you live in, of course), you may find that you don't really have any great options for cases.
While the OnePlus cases are anything but cheap, at least they're all very well made – we had an assortment of three to play with during our time with the Nord 2, and they're all nice feeling, though we're partial towards the ones with the trademark OnePlus Sandstone finish. It's just so grippy!
Speakers, vibration motor
The OnePlus Nord 2 has perfectly adequate dual speakers that get the job done without being among the loudest or highest-quality we've ever heard. On the other hand, they're not quiet nor low-quality either, so this is one area where what you get is exactly what you may have expected given the price of the device. The speakers don't punch above that level, nor are they disappointing.
Overall, it was a nice experience using them, but obviously, they work best in environments that don't have a lot of ambient noise. There you may find the volume wanting, but this is true for many phone speakers. We are glad there's two of them, even if the earpiece is pulling double-duty and there isn't a symmetrical top speaker to go with the bottom one. This is always preferable to having just a single downward-firing unit.
The story is very similar with the vibration motor, although not entirely so. Subjectively we'd say it's a little bit better than the phone's price might make you believe, while still not getting close to the best on the market. Then again, those are generally mounted onto phones that are higher-end and more expensive, so we wouldn't fault OnePlus for this. On the other hand, it has to be noted that the Nord 2's motor isn't one of those cheap, tinny, horrible ones you sometimes find on much cheaper devices.
So while it's not among the best, it's definitely not among the worst either. It is, for lack of a better phrase, middle-of-the-road. Unfortunately, you don't have any control over how intense the haptics are for general UI interactions, there's only an on/off switch for "Vibrate on touch" and that's it.
Refresh rate
The OnePlus Nord 2's screen is nice, but 90 Hz isn't 120 Hz, and not even Samsung is trying to get away with 90 Hz at this price point nowadays. This is one of the main downsides of the Nord 2, and there's just no way around it. If you've ever used a phone with a 120 Hz refresh rate for any reasonable amount of time, then switching to the Nord 2, things always seem a bit slower than they should be. It's the power of habit, it's the power of getting used to things, and you obviously can get used to the Nord 2's lower refresh rate, but not without always sort of knowing, in the back of your mind, that things could be better.
Or rather, that they should be. Much cheaper devices can be had with 120 Hz refresh rate screens, and that was also true when the Nord 2 launched. OnePlus really has no excuse for skimping on a higher refresh rate here, no matter how afraid it might have been about the Nord 2 cannibalizing sales of its higher-priced premium devices.
See, this neatly illustrates one of the problems with brands that cover a wide range of price tiers. They inevitably don't want to negatively impact sales of the higher tier, so they always end up needlessly crippling the lower tier, so that doesn't happen. It's tipping the scales plain and simple, and it's a complex problem because you end up not making the best product you can make, but the best product that won't affect sales of your other, more lucrative products.
That's not a consumer-friendly thing to do at all, and people know this and act upon it – it's no coincidence that the brands that usually have the most success in the lower or mid tiers of the market are those that offer 'the best bang for the buck'. When it comes to refresh rate, the OnePlus Nord 2 definitely doesn't do that.
Of course, if your previous phone had a 60 Hz screen, you'll be very happy with the improvement you're getting here. The issue is – you should have gotten more of an improvement. As you'll see in the Performance section, the refresh rate also caps smoothness, which can not match that of any handset with a 120 Hz refresh rate – even ones that are half the price.
Display quality
Now that we got the elephant in the room out of the way, we can say that the Nord 2 has a high quality display panel, one that has never left us wanting in brightness, even on the sunniest of days. Sure, it doesn't get nearly as bright as some of the flagships out there, but it's still decently legible, which is pretty good for this price point.
Conversely, it also gets dim enough at night for it not to sear your retinas when looking at it in pitch darkness. The auto brightness curve is good, but could be better. We generally found that it preferred a setting that was slightly too bright in most ambient lighting conditions, but then it was very conservative in going up to the last 20% of the line – this became annoying outdoors sometimes, when despite there being ample daylight, if the sun wasn't directly hitting the screen the brightness would never actually go up to 100% on its own.
We fixed this in time with many manual adjustments, which were remembered as they should be. So overall, we would definitely not call this a bad performer when it comes to auto brightness, but in the past year or so, most devices we've long-term reviewed have actually had more or less perfectly set curves, and thus compared to that benchmark this experience was slightly disappointing. Unlike the refresh rate, though, this is actually something you can fix – with patience and perseverance.
Display settings
Like practically any other phone with an AMOLED screen, the OnePlus Nord 2 lets you pick your favorite color mode. In this case, you get only two options, Vivid and Gentle, and their names are self-explanatory. The former is tuned to the P3 color space, while the latter targets sRGB. Vivid is the default, and which one you prefer will depend on how much you like colors to 'pop' on your phone's screen. If not even Vivid is enough for you, then you can use "AI color boost" to go even further at the cost of some battery life. We kept this off because we're usually wary of such artificial enhancements. Maybe that's because we grew up with a lot of such settings enabled by default on TVs to the detriment of image quality.
Speaking of which, there's also an "AI resolution boost" to "enhance the definition of low-quality videos", but we're having issues figuring out who'd actually need that. How low-res would a video have to be on your phone's screen to require such intervention? Do you have your collection of QCIF videos recorded on your Nokia Asha a decade ago constantly on hand and in need of being endlessly rewatched? On the other hand, props to OnePlus for using the "AI" buzzword as much as possible, we all know that simply adding "AI" to anything will automatically make it better (in case it wasn't obvious, yes, that was sarcasm).
Like all modern phones, the Nord 2 has a blue light filter too, which is called Eye comfort. While this is nowhere near as customizable and feature-rich as MIUI's blue light filter has been in the past year or so, it's still pretty good. You can select the color temperature with a slider (the warmer you go, the less harmful blue light emitted), and you can also pick between color and black and white. Eye comfort is schedulable, and overall it's a competent implementation of a blue light filter.
Fingerprint sensor
The Nord 2's fingerprint sensor is of the optical in-display variety, and it's very good. It's fast and accurate – we had about 95% success rate with it in unlocking on the first try, which is on par with the phone's competitors and even matching some more expensive devices out there.
As with any optical sensor, registering your prints is a more tedious affair than with the latest ultrasonic ones, but you only need to do that once per finger, so we won't count it as a downside. There are a few different fingerprint animations you can choose from, and if you want to, you can even enable "Quick launch", which lets you set some app shortcuts to show up if you keep pressing the sensor area after the screen is unlocked. Then you can just slide your finger (without lifting it) to the app you want to go to, and it starts up. This is a neat enough system in theory, but for some reason, we never found ourselves using it (something similar is present in other Android skins too). You may find it essential, however, and so we're glad it's there.
Face unlock is also present, but since it uses the selfie camera it's less secure than the fingerprint scanner. There's a setting that you can turn on for unlocking to only happen when your eyes are open, and that works well in practice. We haven't really used face unlocking much on the Nord 2 because of how good the fingerprint sensor is, but the times we have relied on it, it was fast and accurate, too.
Ambient Display
The Nord 2 has an Always-on Display, naturally – one of the benefits of an AMOLED panel, since it doesn't need to wake the entire screen to display stuff on a part of it. OnePlus calls it Ambient Display, and the implementation of this function here is very good, with a ton of customization options available to you. You can pick between many analog and digital clock styles, and even a text clock. Notification icons are shown too, and you can even see the entire notification on the AOD for a short while when it arrives.
Ambient Display is schedulable, and we liked that you can choose some "contextual info" to show up if you want it to – things like media player controls and information and calendar events – so it's not just a clock with notification icons underneath.
OnePlus took its sweet time bringing actually always-on functionality to its Ambient Display, but it is present in the Nord 2, and we appreciated that. If you don't want (or need) it to be always-on, you can set it so that it appears upon picking up the phone and/or if you tap the screen once. You may save some power this way, but, as our Battery life section makes clear, the Nord 2 is capable of very good battery life even with the Ambient Display always-on.
OxygenOS vs. ColorOS, bugs
The OnePlus Nord 2 runs OxygenOS 11.3 (based on Android 11), which is best thought of as ColorOS with an OxygenOS skin on top. It's not yet full-fledged ColorOS with just another name – that's coming with the Android 12 update, presumably. But the underlying codebase is unified with ColorOS.
So it's once again a middle-ground sort of thing – not OxygenOS exactly as it used to be, but not ColorOS either. And that's… fine, really. We know this will be a controversial statement for fans of the 'true' OxygenOS, but here's the thing. ColorOS 11 and ColorOS 12 have consistently been among the best Android skins out there, with excellent performance and a good blend of customizability that doesn't go overboard but still lets you alter the experience in many ways if you please.
True, the disappearance of true OxygenOS will, unfortunately, mean that there's going to be one less player in the Android skin market, and that loss of diversity is, well, a loss. This, we get. Hating on ColorOS because of that, however, we find quite unfair. And let's not forget that over the past few years, OxygenOS has been getting progressively more buggy, seemingly as OnePlus has expanded its product portfolio more and more. Maybe there weren't enough software engineers there to properly take care of all the issues, and hopefully, OnePlus' ColorOS will one day become as bug-free as Oppo's ColorOS has been for a while now.
That's not the case on the OnePlus Nord 2. Maybe the transition period is to blame, we don't know. But Do Not Disturb Mode has simply not worked on the Nord 2, at all, for at least 3-4 months, during which time our unit got three different updates. So we really can't fault OnePlus for the update cadence here, and while the security patch level isn't always current, it was never more than a month old while we used it, which is much better performance on this than some of its competitors put out (cough… Xiaomi… cough).
But these updates sometimes fix random annoying bugs while introducing others, and as we said, they all ignored the well-reported DND issues. As a consequence, one of the main "it should just work" things for a modern smartphone, at least in our opinion, has been broken for months, despite OnePlus knowing about this. That's not a good look.
After one of the updates, the phone's proximity sensor would randomly stop working while on calls – but this got fixed with a reboot every single time. Why? Who knows. Thankfully the next update fixed this issue for good, and we haven't seen it since. The latest update introduced a bug that randomly makes the Eye comfort blue light filter feature not work on the in-call screen in the Phone app – it works everywhere else all the time, and there some of the time, but not always. Why? Who knows.
For a while now (since the last-but-one update), YouTube is randomly killed when running in the background, which, dare we try a bit of sarcasm, is great for when you're listening to a podcast or some such thing. This happens once every few days and doesn't seem to be tied to how heavy the RAM use is – sometimes it happened while YouTube was the only thing running.
But perhaps the most annoying bug of them all, which has been there from the beginning of our use of the Nord 2, is related to Bluetooth. We're not sure if this can be blamed on the MediaTek SoC or not, but here's what happens when we connect a pair of earbuds that have a Qualcomm chipset – the right earbud always plays the music we're listening to, while the left one randomly stops. For a few seconds, or sometimes even a few minutes. Then it randomly starts playing again, for a few seconds or a few minutes… until it randomly stops again.
To merely call this "annoying" would be putting it very mildly, but we've checked – it only happens with TWS earbuds using a Qualcomm chipset (regardless of the codec being used – we tested with SBC, AAC, and aptX). There's no such issue with earbuds using any other chipset. It took a fair bit of sleuthing and testing to reach that conclusion, which most people we assume wouldn't go through, and in the end, the fact that we know the conditions for the bug to appear doesn't in any way help us get rid of it.
Nor do any of the Bluetooth-related options and toggles in Developer settings, by the way – we played with them all. Would the average consumer even know which chipset their TWS earbuds are using? Probably not. Would they know that the blame isn't actually with the earbuds? We ask since this has never happened to us before, using the exact same earbuds with at least a dozen other phones. And we're talking about two different pairs, from different brands – but both with a Qualcomm chipset.
While we're on the Bluetooth topic, the Nord 2 also, unfortunately, has that thing where it doesn't want to automatically reconnect to previously connected speakers and car systems 9 out of 10 times – and you need to manually select the accessory from the Bluetooth menu in order to make it connect. This, hilariously, never happens with earbuds, regardless of the chipset, but has consistently happened with two portable speakers and one car system (same ones we've used without such problems with other smartphones before).
The point of all this is that you should expect to see random bugs here and there on the Nord 2 in the current state of its software, and while updates do come often, and they sometimes do fix things, they can also bring new bugs with them for the ride. That's definitely not optimal from a UX perspective.
Dark mode
The Nord 2's Dark mode is competent enough, although it's missing the granular settings of ColorOS (for now, at least, we're betting these might be added after the Android 12 update). It's a simple on-off switch, thus, and you can schedule it to turn on from sunset to sunrise or according to your own custom times. Additional settings include reducing the contrast in low light conditions, and this is something we recommend you turn (or leave) on as it reduces eye strain when viewing the display in dark places.
There's also a beta feature that forces Dark mode for third-party apps, but this one has the opposite problem of MIUI's implementation – whereas that one applies to all apps on the phone (and annoyingly is on by default), in the case of this version of OxygenOS there are literally three apps (of our 200+) that it could work for – AliExpress, LinkedIn, and Speedtest – which is funny, because Speedtest's UI is dark by default. The reasoning for only these three apps being supported by this feature eludes us entirely. The bottom line here is that if you were hoping to be able to force Dark mode on whichever apps you want to, that's out of the question here, for better or for worse.
Personalizations
Having all of the UI-related customizations neatly grouped into one section in Settings is a great idea, even though this creates some redundancy since some of the options are also available in other parts of Settings. Still, we commend OnePlus for the Personalizations menu, since it basically provides a one-stop-shop for quickly altering the looks of OxygenOS.
You can find wallpapers, Ambient Display settings, fingerprint animation options, icon styles, UI accent colors, fonts and Display size settings, notification drawer icon shapes, as well as settings for the "Horizon light" gentle notification – all in one place. We wish more skins would have something like this, where a user can quickly jump into one section and switch up the looks with a few taps when they feel like they need a change.
The obvious big missing thing here is themes, although the Colors section takes care of one part of the theming process. Other skins, however, have ready-made themes, and even dedicated theme stores, and this may be sorely missed by some here.
Home screen, Recents, gestures
The Nord 2's launcher has all of the settings you'd expect, and no others. That's a good thing in our book, but if you need to customize every single aspect of your home screen experience, then you still have to download a third party launcher to accomplish such tasks. The OnePlus launcher nails the basics, however – it has the option for an app drawer, of course, but you can also do things Apple-style if you wish. Icon packs are easy to change, as they should be.
We found the built-in launcher competent enough for our needs, and it was bug-free during our time using the phone, which was great considering OxygenOS in its entirety definitely wasn't. You can add the Google Discover feed to the left of your leftmost home screen, which has quickly become a staple of many Android skins and, as we've mentioned before, we like this development even if you may not.
The Recent apps display consists of a horizontally scrolling list of screenshots, as are most these days (with only a few MIUI devices being the holdouts). There's a huge Clear All button at the bottom, which seems pointless to us, but control freaks will love. Android's built-in RAM management should work well enough that you never need to hit such buttons, but hey – if it makes you feel better to do it, it's there for you.
In between the app screenshots and that button are app icons, which may seem confusing at first, but if you swipe across these, you can very quickly cycle through the apps – much more so than if the swiping was employed across the screenshots above. It's a neat system, which makes getting to an app that you've used a while back (with many other apps used since then) much faster than otherwise. It takes a little getting used to, but it doesn't fundamentally change the way the Recents screen works, it just adds some extra functionality which is there if you need it. If you don't, you can easily just ignore the icons and swipe across the screenshots and that part works pretty much like in any other phone.
Gesture navigation is obviously an option on the Nord 2, and it works perfectly. We had no issues, no gripes, there were no bugs; overall, it's a great implementation that thankfully gives you the option to remove the pointless "gesture guide bar" pill-shaped thing at the bottom of the display. You can still quickly return to your previous app by swiping across the bottom of the screen, so there's absolutely no functionality lost by getting rid of that eyesore. The fact that you can have it so there's a vibration every time you employ the back gesture is also welcome in our book – it adds just a tad of physicality to the action by responding in that way. If you don't like this, though, you can turn it off.
These aren't the only gestures on offer in OxygenOS, however. As you may know, if you've ever used a OnePlus phone before, there are screen-off gestures too – so you can draw a V to turn on the flashlight function, or an O to open the camera. We have to confess we always turn these on, and then most times promptly forget about them, but if you can remember they exist they are very nice and work well – although not quite 100% of the time from the first try.
With a fingerprint sensor as fast and accurate as the one here, however, you're not really saving a lot of time drawing the gestures compared to just unlocking and then tapping the corresponding icon on your home screen. But these screen-off gestures provide another way of doing things that you may like, and we can't say we feel their presence clutters the OxygenOS experience too much or anything like that.
You can add more if the included two aren't enough for you, and there's also a three-finger swipe down gesture to take a screenshot. Again, like with the others, we did make sure this was on, and then never used it because hitting power+volume down is way too ingrained in our muscle memory or something. But, this feature may prove more useful to you.
Depending on how far you want to stretch the definition of the word "gesture", you could also say that double-tapping or pressing and holding the power button are "gestures", and in this case, you'll be happy to note that both of those actions are customizable, although for the long-press you can only pick from the power menu and Google Assistant, while the double-tap can either do nothing or open the Camera app. We love the possibility to jump straight to the Camera app with a double press of the power button, and so picked that, while for the long-press we went with the power menu because Google Assistant is much easier to invoke via voice anyway.
Performance, smoothness
Both OxygenOS and ColorOS currently offer generally very smooth software experiences, and the MediaTek Dimensity 1200 SoC in the OnePlus Nord 2 may not be on par with Qualcomm's latest and greatest, but it's still a plenty-capable upper mid-range chipset which for anything but intense gaming should feel indistinguishable in use. But this phone's problem is its screen's refresh rate, which is what keeps its smoothness at a level below even cheaper devices with 120 Hz panels.
Sure, it's one of the smoothest experiences you can have with a 90 Hz display, but physics is physics and 90 < 120 any day of the week. So for what it has to work with, the Nord 2 puts out some outstanding smoothness levels. But because of what it has to work with, it will never be above the middle of the pack in our unofficial subjective smoothness rankings. While a 120 Hz screen is no guarantee a phone will rise to No.1 in there, not having 120 Hz is guaranteed to keep it at a low standing.
Performance, as we hinted at earlier, is great. The refresh rate notwithstanding, for 99% of daily activities on the phone that aren't intensive gaming, you won't feel that this isn't a 'proper' flagship SoC powering the Nord 2. It's very, very fast, and honestly, it feels as good as a Snapdragon 870 or 888 – these three are pretty much indistinguishable from each other in day-to-day mundane tasks unless you're really trying to push the envelope. The Nord 2 definitely didn't need a better chipset, it needed a higher refresh rate screen.
Battery life
Battery life has been very good on the OnePlus Nord 2, and when you factor in the battery's good but not record-breaking capacity in the calculation "very good" turns into "outstanding". There's also no possible way to overstate how much of a game-changer the extra fast charging is in day-to-day use scenarios.
A quick top-up replenishes the battery much more than you'd think if you've never used 60+W fast charging before, and means that even if your regular use case is much more intensive than ours, so much so that you'd need midday top-ups, these will be quick and efficient. This is one area where the Nord 2 absolutely rules its price point; competitors just can't touch it. Think about it – 0 to 100% in 31 minutes! Of course, you'll have to use the provided charger to achieve the top speeds, but that's the way it's been for years now when it comes to VOOC/SuperVOOC/Warp Charge.
With our use, we found that it was always possible to achieve six hours of screen on time in a day, with seven hours being very likely as well. On some days, we could have even pushed for eight, but that's kind of the maximum of what you can expect from this phone with a use case similar to ours (and you shouldn't expect to reach eight hours every single day). These are commendable results for a battery that's just 4,500 mAh, matching in longevity a lot of devices with 5,000 mAh cells (or thereabouts).
The screenshots above give you an idea what to expect – again, if your usage is anything like ours. Otherwise, your mileage may vary, you know, the usual caveat applies.
The Nord 2 doesn't have wireless charging, which is not surprising at its price point, since this feature is still confined to more expensive phones throughout the mobile world.
For this long-term review, we were using the Nord 2 about 12-16 hours each day off the charger, with the Ambient Display set to always-on during that time, primarily Wi-Fi connectivity, about an hour or two of mobile data, Bluetooth always on, about an hour or two of listening to music or podcasts via Bluetooth with TWS earbuds, location always on and about half an hour to an hour of navigation via Waze or Google Maps.
We like that there's a feature called "Optimized night charging" in Battery settings, which, if turned on, learns when you are likely to be asleep and, if you charge the phone during this time, controls the speed to avoid overcharging. This basically means it won't charge to 100% immediately, instead wait until the morning to go there. It's a welcome feature, and it pops up a notification when it's working so you can turn it off if you need a quick, full top-up at night for some reason.
Working in concert with this is "Sleep standby optimization" which, based on the same calculations on when you might be asleep, reduces the amount of background data used and shows you fewer notifications. You'll see if this is working if, when you pick the phone up in the morning, for a moment or so, it seems to have very few notifications waiting for you, but then many more start coming in at the same time.
We didn't mind leaving this on, especially as the DND mode never worked, this basically helped at least take down the sheer number of notification chimes going off while we were trying to sleep, if not suppress all of them altogether like DND mode should have done (our full rant about DND and all the other bugs we've encountered is in the Software section of this review).
Camera
The Nord 2 has an exciting camera package. The main sensor is the Sony IMX766, which is far from breaking any size records, but is still flagship-grade, and, in fact, used by both Oppo and OnePlus on higher-end devices. That's intriguing to see at this price point for sure, but understandably the ultrawide is less impressive (bill of materials cuts had to come from somewhere), with a low 8 MP resolution and no autofocus, while a telephoto is missing altogether.
We can't really fault the Nord 2 for the lack of optical zooming capabilities, since even more expensive devices are missing that. The missing autofocus for the ultrawide is also pretty much par for the course at this price point. However, this means no macro shots for you – and unlike most of its competitors, the Nord 2 doesn't even have a low-res dedicated macro shooter.
During the day, the main camera produces images that, while generally very good, unfortunately, don't always seem flagship-grade – some look great, some are just good enough. We expected more than "good for the price point" from this phone's main camera sensor with its top-of-the-line pedigree.
Anyway, you get high contrast, wide dynamic range, and accurate-ish colors (if oversaturated, as is generally the case in phones nowadays). Foliage is generally a mixed bag, and again – while these look good, we expected stunning. Oversharpening can sometimes be an issue. We stayed clear of the AI toggle, by the way, since it saturates colors way beyond what we think looks decent. We also shot with HDR set to Auto since that's the default, and we assume most people will never touch the defaults.
Moving on to the ultrawide, you generally get decent amounts of detail, good (if slightly exaggerated) colors, and good dynamic range. There's way too much contrast in a lot of scenes, though, while foliage never quite looks natural. Sharpness jumps around quite a bit from shot to shot. And while none of the images are bad per se, this unreliability isn't a good look (pun intended).
Despite the lack of a zoom camera, you get both 2x and 5x toggles in the viewfinder, and we experimented with both. This isn't any sort of magic zoom, by the way, just a simple crop and upscale digital zoom process.
That means the 2x images will inevitably always look better than the 5x ones – the latter approaching and sometimes being fully into oil painting territory. Most of these are best left to viewing on phone screens and not anything bigger. Their imperfections (to put it nicely) easily shine through on a computer or, even worse, on a TV.
At night in Auto mode, the main camera produces good images with nice amounts of detail, generally good exposure, low noise, and pleasant colors. Thanks to OIS, you aren't likely to get any blurry shots, and that's a huge plus at this price point – more competitors should definitely add OIS to their main cams.
Night Mode makes things even better, which means you should probably use it as often as you can, once the ambient light levels go down. The Night Mode shots are more detailed, have even less noise, more saturated colors (though not to the point of cartoonishness), while the highlights are restored, and you can see more detail in the shadows. Overall, this is a very good Night Mode then.
The ultrawide struggles at night, unsurprisingly, churning out constantly underexposed shots. Even so, at least the noise reduction doesn't go overboard as much as in other devices, and so it smears less of the fine detail.
Night Mode makes things better for the ultrawide too, if only slightly, and provided that you can sit still while it does its thing. There's no OIS here, so any movement in your hands while it's capturing will result in blurriness. Provided you don't move for a few seconds, you'll get better exposure, and overall brighter shots, with better sharpness and more detail. Colors seem nicer too, but we still wouldn't call these pictures great.
The 2x zoom shots at night aren't very good, as you might expect since it's digital zoom through and through here. We'd say these work in a pinch, for sharing on social media or something like that.
However, that definitely doesn't apply to the 5x shots, which, at night, are always solidly into oil painting territory, no doubts about that. So if you can, "zoom with your feet", as they say, since the main camera is plenty capable at night, as described above.
Night Mode works on the zoomed pictures as well, but there's only so much it can do given the quality degradation inherent to the digital zooming process.
This applies for 2x images, the 5x ones are made even worse by applying Night Mode.
Selfies are great when there's a lot of ambient light around. They come out sharp, with plenty of detail, good contrast, nice looking colors, great dynamic range. Whenever the light around you dips even a little, though, selfies will lose some of their sharpness, while still being okay.
At night, things wholly depend on how much light there is around you, and using the screen flash helps a lot in brightening up your face. Portrait mode shots are possible, and they have good colors during the day and great contrast. Subject separation isn't perfect, but will do if you really need a Portrait mode selfie. These are less detailed than the Auto mode selfies, though.
Going into this long-term review, we expected the Nord 2's main camera to rise above its price point, given its flagship chops, and it does do that at night for sure. During the day, it's less of a delta with competing devices at around the same price. It produces nice images, but the random oversharpening tendency is a bit baffling, while shots that would benefit from a good HDR algorithm are always slightly disappointing.
The ultrawide is better during daytime than we thought it would be, while at night it unsurprisingly isn't even close to the main shooter, and zooming on the Nord 2 should only be done during the day in our opinion, and only when you don't have any other option.
["source=gsmarena"]