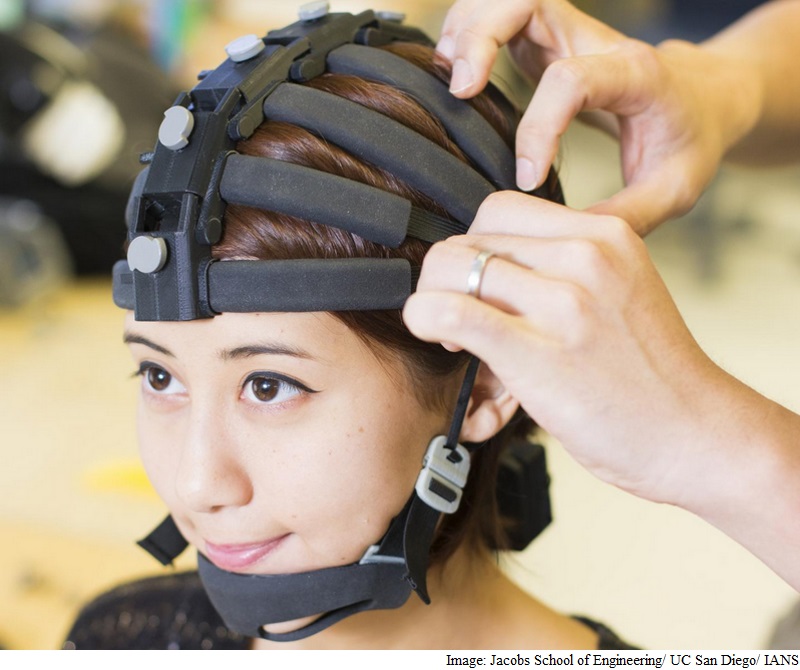 In their bid to get brain monitoring out of the lab, scientists have developed the world's first portable and dry wearable brain activity monitoring system that is comparable to the state-of-the-art equipment found in research laboratories.
The system is a better fit for real-world applications because it is equipped with dry electroencephalogram (EEG) sensors that are easier to apply than wet sensors, while still providing high-density brain activity data.
The system comprises a 64-channel dry-electrode wearable EEG headset and a sophisticated software suite for data interpretation and analysis.
It has a wide range of applications, from research, to neuro-feedback to clinical diagnostics.
"This is going to take neuroimaging to the next level by deploying on a much larger scale," said Mike Yu Chi, an alumnus of Jacobs School of Engineering and Institute for Neural Computation at University of San Diego.
"You will be able to work in subjects' homes. You can put this on someone driving," added Chi, CTO of Cognionics who led the team that developed the headset used in the study.
The EEG headset developed by Chi and his team has an octopus-like shape, in which each arm is elastic so that it fits on many different kinds of head shapes.
The sensors at the end of each arm are designed to make optimal contact with the scalp while adding as little noise in the signal as possible.
Sensors designed to work on a subject's hair are made of a mix of silver and carbon deposited on a flexible substrate.
In the future, scientists envision a world where neuroimaging systems work with mobile sensors and smartphones to track brain states throughout the day and augment the brain's capabilities.
Researchers also envision a future when neuroimaging can be used to bring about new therapies for neurological disorders.
"We will be able to prompt the brain to fix its own problems," said Gert Cauwenberghs, a bioengineering professor at the Jacobs School.
Next steps include improving the headset's performance while subjects are moving.
The device can reliably capture signals while subjects walk but less so during more strenuous activities such as running.
The findings were detailed in the journal IEEE Transactions on Biomedical Engineering.
["source-gadgets.ndtv"]