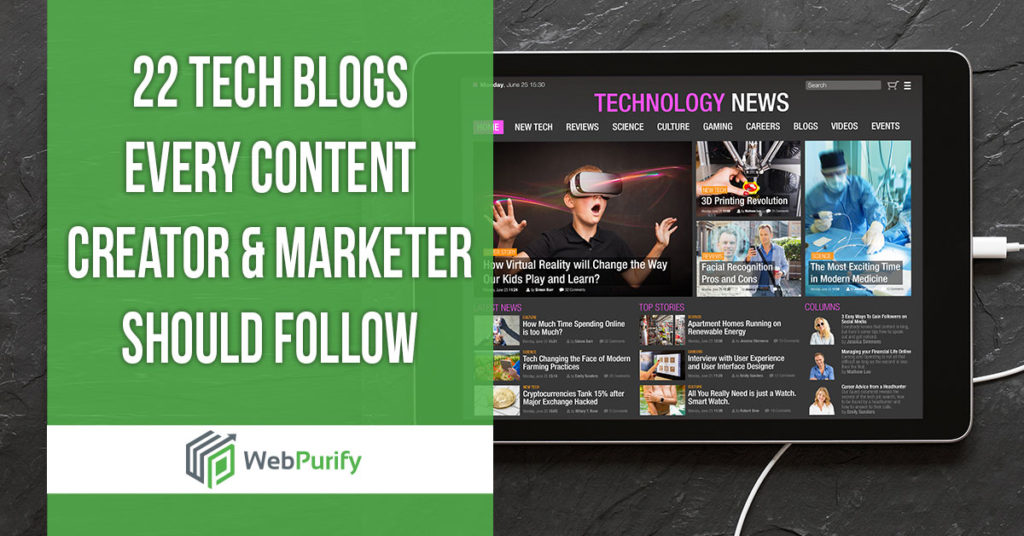 You don't have to work in the technology industry or offer image moderation software , profanity filter service, or video moderation API like we do to benefit from the best tech blogs today.
Technological innovations are always surfacing, and some of them will have a tremendous impact on your business. If you're one of the first to embrace high-tech discoveries, you're more likely to beat your competitors and dominate your market.
Tech blogs can also deliver fresh topic ideas for blog posts, website content, and social media posts. Find the intersection between a recent post on one of the top tech blogs and something that is of interest to your audience. That's all you need for a creative idea that will bring attention and authority to your brand.
In hopes of lighting your content marketing strategy on fire, we created this technology blogs list to help you find the most influential tech bloggers to follow for your business. You may also find some of these information technology blogs interesting from a personal perspective, so dig in and learn something new today.
The Verge
The Verge surfaced in 2011 but is still considered one of the best tech blogs 2020 has to offer. It's a multimedia experience that delivers text content, videos, product reviews, and news updates for some of today's leading businesses. Think of it as a convenient place to discover trending holiday gifts while finding free movie streams and tracking what larger companies in your industry are doing to stay ahead of the high-tech game. There's a little bit of everything at The Verge, and the podcast is an easy way to catch up on the tech trends each week while multitasking.
CNET News
If you sometimes recommend products to your audience or are always looking for the best ways to update the technology in your business, add CNET to your technology blogs list immediately. The site is an invaluable resource for in-depth reviews of the newest technological products hitting the market, and they have an attractive news blog that will keep you up to date on the biggest headlines in the technology industry.
Wired
How do current technology trends relate to today's most prominent political scandals? What does the economy have to do with technological innovations of the future? Those are just some of the questions that you might answer by following this unique blog dedicated to modern life and the technology industry. We rank Wired as one of the best tech blogs for professionals in every industry. Politics, culture, and modern life will always impact your business, and this blog will deliver great ideas for presenting the most relevant topics to your audience.
Venture Beat
Are you aware of the most groundbreaking technological innovations on the horizon? If not, get connected with Venture Beat right away. We feel it is one of the best tech blogs for people who want to hear about the latest scientific studies as well as the daily headlines circulating the technology world. The online technology magazine offers a variety of new topics daily, covering the technology that may change your business and personal life tomorrow. Venture Beat covers everything from video games and artificial intelligence to marketing, media, and transportation. Following the channels that are relevant to your professional and personal life allows you to save time while missing nothing.
Analytics Insight
Analytics Insight is another blog our staff visits for insights, trends, and opinions for tech-related issues. They feature analysis of Artificial Intelligence, Big Data, Business Analytics, Business Intelligence, Data Management, IoT, Robotics, Cloud Computing, and more. We promise you're going to love their site and analysis as much as we do.
TechCrunch
Immerse yourself in the business end of the technology field with one of the most popular tech blogs thriving in 2020. The blog reads like a magazine with topics covering lawsuits, stock market IPOs, and other business dealings of leading companies around the world. You'll also learn a little about credit cards, apps, and various new gadgets while seeing what some of your biggest competitors are doing to dominate your market. Sign up for the TechCrunch newsletter to have updates sent right to your mailbox. Consider signing up for the Extra Crunch membership if you would benefit from detailed overviews of new startups, business-building resources, and access to industry-approved lists of verified service providers.
GeekWire
The GeekWire blog is where many modern geeks go to get wired with technology information in 2020. They present the most prominent tech industry news daily as well as some original content that may help you keep up to date with technology innovations impacting your business and personal life. You may also want to explore the resources tab for valuable information dedicated to companies and professionals in the tech field. Consider attending a GeekWire event for opportunities to discuss cutting-edge digital trends with industry experts. The events are also a great place to shop for content topic ideas that will appeal to your professional audience. You can give updated reports in true journalistic style if your audience appreciates any of the topics presented at upcoming events.
TechSpot
TechSpot focuses heavily on consumer electronics. The blog allows you to browse product reviews, news updates, and trending stories with less frustration. If you manage or create online content around specific types of tech products, check out the TechSpot "The Best" pages. You'll find detailed overviews of the best tech products in a variety of categories with the information presented from industry professionals. Do you like to chat with other people interested in the technology field? Visit the TechSpot forums to ask questions or pick up quick tips from a highly informed community. The forum is a great place to discuss stories that you see in the TechSpot blog. Problems surfacing in the forum may give you ideas for items that you need to answer for your audience in a way that is relevant to your business.
BGR
BGR maintains a focus on mobile technology and consumer electronics. The site features a variety of timely topics that will help you understand the latest technology innovations while making smart tech choices in daily life. It's one of the best tech blogs 2020 has to offer because the news updates, product reviews, and shopping deals are always relevant to a broad audience. If you don't know much about technology right now, this is one of the best tech blogs to follow daily. You can keep up with tech news in less time by looking at the trending list featured on the front page of the BGR website at least once a day. It will give you a quick rundown of the current digital trends in exchange for a few moments of your time.
Ars Technica
If your business relates to IT in any way, this is one of the leading information technology blogs for 2020. The founders view technology as an art form, and they use their online space to present topics of interest to IT professionals everywhere. The blog presents a diverse range of ideas on various political and cultural topics too. Reading new Ars Technica posts often is a great way to keep up with the world that isn't in your backyard, city, or state. You may not always like what they have to say at Ars Technica, but they will certainly give you a lot to think about and perhaps a few things to discuss with your online audience.
SiliconANGLE
SiliconANGLE is one of the most popular tech blogs for enterprise-level professionals who make high-tech decisions. It's also a great place to catch up on trending topics in the technology field, so it appeals to anyone who wants to know more about innovations coming up in the tech field. The blog features trending stories on the front page of the website, but you can also explore sections of content dedicated to the cloud, Internet of Things, artificial intelligence, blockchain, security, and big data. A special section devoted to emerging tech is a great place to find more information on technology that may impact your field of business.
SlashGear
SlashGear is a virtual magazine with columns, product reviews, and sections of content for technology, cars, gaming, entertainment, and science. The topics are varied but maintain relevance to people interested in how technology is changing the future. Reading the blog often will introduce you to innovative technology that may transform your business, but you'll also learn about cool tech stories that are merely interesting from an intellectual standpoint. We highly recommend SlashGear as one of the best tech blogs that aren't overly technical. The language is friendly to entry-level readers while still catering to established technology professionals with more detailed knowledge of current trends. Think of it as accessible tech news that includes everyone.
Computer World
Computer World is one of the must-follow tech blogs for professionals at the enterprise level. It includes high-tech information that can help any businessperson make high-level decisions when it comes to their computer networks. Topics range from mobile applications to desktop computers to internet-based technology. If you collaborate long distance with colleagues or are responsible for keeping the technology cutting edge for your business, Computer World is worth your time. It's one of the best tech blogs for anyone interested in understanding how computer-based technology is changing.
TechDirt
TechDirt is one of the best tech blogs for anyone with a business in the legal field. Many of the topics cover lawsuits and other legal matters in the tech industry, but you'll find some political technology stories as well. While it's not one of the most attractive or visually engaging tech blogs, it's a wealth of information if your interests include politics, law, and technology.
Mashable
If you're interested in political and cultural news as well as tech industry updates, get everything that you need in one place with Mashable. The site embraces the modern culture and delivers news that may decide where you take your family for vacation, what TV shows you stream on Netflix, how you talk to your children about the environment and which new printer you put in your home office. Do you enjoy shopping online? Check out the Mashable shopping tab to find discounts and deals on some of the best products available in 2020. You may discover new gift ideas, but this is also a great place to look if you benefit from presenting new products to your target market online.
ZDNet
ZDNet is one of those information technology blogs that bring IT, technology, and modern culture together. Think of it as an online magazine that helps you incorporate technology into your daily life seamlessly. From programmers to teachers, students, and online marketers, virtually anyone with interest in IT will find something worth reading at ZDNet. If you're looking for the best tech blogs that are also approachable, you'll appreciate the topics and easy-to-read language in this blog. They also offer white papers, downloads, and forums for followers interested in learning a bit more than what's presented daily on the site.
ReadWrite
If you notice a lot of repeat topics on many other tech blogs, you may find ReadWrite a breath of fresh air. Rather than serving as another tech-related online magazine, the blog offers a variety of topics that relate directly to many of the top non-tech industries. Whether you're a content manager or you work in banking, you're likely to find something relevant to your work at ReadWrite. ReadWrite may turn into one of your favorite tech blogs if you have specific interests in smart cities, startups, blockchain, or other specific fields of technology. The blog serves as a point of engagement for people with interest in many narrow technology topics. ReadWrite gives you a break from a more general technology news and allows you to go in depth on subjects that fascinate you professionally or personally.
Trusted Reviews
Trusted Reviews is one of the best tech blogs to bookmark and often visit if your work requires you to feature the leading tech products for a select audience. The blog has a tight focus on consumer electronics and features many detailed reviews with information from industry professionals. We consider this one of the best tech blogs for anyone interested in educating themselves on the newest electronic products. You may also use the reviews and detailed articles to pass information to your online audience through social media or your blog. If you need information on a tech product, you're likely to find it here.
Tech News World
Catch up on timely news stories while reading lively commentary on one of today's more popular tech blogs. We rank Tech News World among the best tech blogs for those interested in networking, security, and wireless computing. You may also consider this one of the more valuable tech blogs if you're interested in IT. Tech News World is a blog plus a full website with additional content, so think of it as a hot spot of insight into the tech world.
Extreme Tech
Extreme Tech offers a lot of product reviews that may help you source the best technology for your business and personal life. The blog also provides high-value content for people with interest in specific fields of technology, including cars, gaming, phones, space, deep dives, and computing. It's easy to find topics that are relevant to your business or personal interests because the blog features easy-to-find category headings at the top of the website. Extreme Tech is one of 2020's tech blogs that may quickly become one of your favorites because it has an approachable style that's suitable for readers at all levels. If you want to delve deeper into a specific field of technology, you may find what you need at Extreme Tech.
Android Authority
Android Authority falls close to last on our list of leading tech blogs only because it has a more limited focus. As the name suggests, all topics are relevant to the Android mobile operating system in some manner. You may find news stories that go beyond Android at times, but there is almost always a connection to mobile technology. Mobile tech is one of those subjects that everyone using the internet for business must understand. It dictates how you find your ideal customers online, how you build an online following for a brick and mortar store, and how you make professional connections with people from around the world without extensive travel. If you aren't plugged into the mobile tech world already, Android Authority is one of the best tech blogs to follow in 2020.
Boing Boing
How is Boing Boing still considered one of the best tech blogs in 2019? It's one of the oldest tech blogs around, but it still has a lot to offer. It declares itself "A Directory of Mostly Wonderful Things." It is a mishmash of high-tech tidbits that touch on modern life. If you want to learn about the parts of technology that are relevant to your world, Boing Boing is one of the best tech blogs to follow.
Pando
Pando falls last on our list of 2020 tech blogs because you have to sign up for a paid membership to get the full value. Free content on the website is limited. You may find the upgrade useful if you want to stay on top of the intersection between technology, politics, and modern culture. The blog has an international following and covers interesting topics that you might not see in other leading tech blogs.
Don't Forget to Check Out These Other Great Blogs
TechMused
TechMused is a blog we often visit to find answers to issues that we face online.
iTech Hacks
iTech Hacks is one of the leading consumer technology websites aimed at helping people understand and use technology in a better way. They serve the hottest tech news in the town through their website and app, help their audience make better decisions through detailed reviews, and produce high-quality videos on the tech that actually matters the most to the end consumer.
Tech Media Today
Check out this great blog for the latest technology updates and trends.
TechCrack
This blog updates you about the latest technology by providing info on tech news, gadgets, how to's, apps & software, gaming, business, marketing and much more.
Technical Support International
This blog provides helpful tips on IT-related topics such as cybersecurity and compliance. As marketing and technology continue to intersect, marketers will benefit from a high-level understanding of many of the topics discussed here.
The Customize Windows
The Customize Windows blog is chocked full of well over 6000 articles and guides on Cloud Computing, Virtualization, Big Data, Computer, DIY Electronics, Android, Photography, Linux Server, Android, WordPress To Windows 7. It's a site you want to bookmark for future reference, it's too valuable of a resource to treat otherwise.
Big Data Made Simple
The BDMS blog curates and generates content for a plethora of verticals and technologies. The site focuses heavily on discovery and exchange. It gives an opportunity to independent writers, thought-leaders, journalists, business entities to come together under one roof. If you're a decision-maker across enterprises, tech start-ups, industry analysts, investors, students, and academicians this site is for you.
["source=webpurify"]