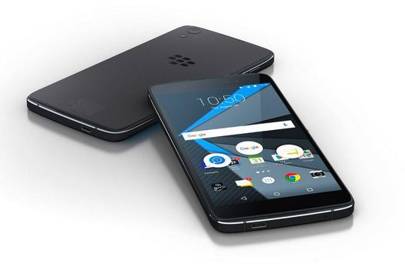 BlackBerry has unveiled a touchscreen smartphone it is calling "the world's most secure" Android handset.
Leaked previously under the BlackBerry Neon moniker, theDTEK50 is a mid-range handset which claims to be the most secure Android smartphone on the market due to a number of software tweaks the firm has made to Google's Marshmallow operating system.
"When it comes to security, Android smartphones from BlackBerry are ahead of all other Android smartphones," BlackBerry said. "Security isn't something that's tacked on, it's fully integrated into the BlackBerry device hardware and OS. BlackBerry sets the bar in incident response and patch management, and brings world-renowned security experts and testing to DTEK50.
The BlackBerry DTEK50 has a 5.2-inch, 1920×1080 Full HD display, powered by an octa-core Qualcomm Snapdragon 617 processor alongside 3GB of RAM. It also has 16GB of storage, expandable via microSD up to 2TB.
The handset measures 7.4mm thick, and has 13MP autofocus and 8MP fixed-focus cameras alongside a 2,610mAh battery that BlackBerry says will offer 17 hours of power on a single charge.
Another notable feature is the presence of a customisable BlackBerry Convenience Key on the side of the device, which provides quick access to most used applications or tasks.
The DTEK50 smartphone is available to pre-order from today on the BlackBerry website priced at £275. It will start shipping on August 8, the firm said.
[Source: Wired]