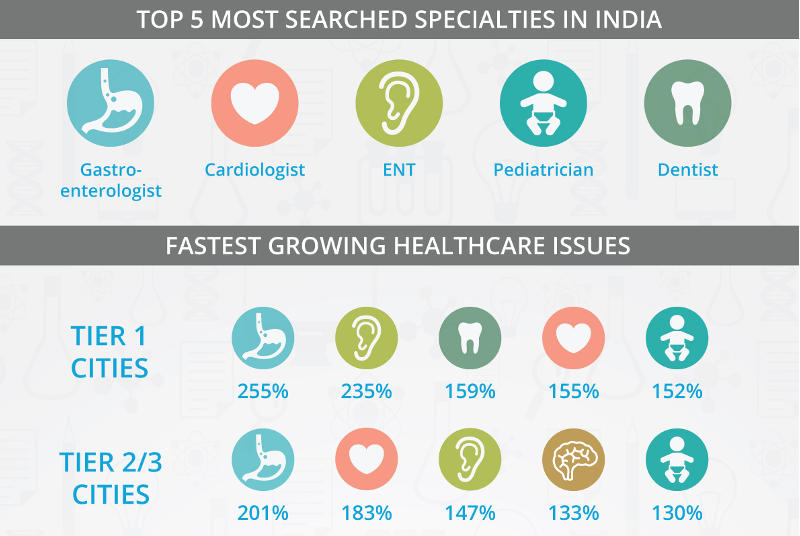 Gastroenterologists were the fastest growing searched specialty across India in 2015, said Bengaluru-based healthcare platform Practo in its Healthcare Map of India 2015.
As per the report, gastroenterologists were the fastest growing medical professionals in Tier 1 and 2, 3 cities. The top five most searched specialities in India are gastroenterologists, cardiologists, ENT specialists, paediatricians, and dentists.
The fastest growing specialities were further divided as per type of town. In Tier 1 cities, the specialities were gastroenterologists, ENT specialists, dentists, cardiologists, and paediatricians. In Tier 2 and 3 cities on the other hand, the fastest growing specialities were gastroenterologists, cardiologists, ENT specialists, neurologists, and paediatricians.
The survey, which aims to highlight the key consumer healthcare concerns of the country, could act a signal to potential healthcare threats in the next few years, the company said.
The most popular day to visit the clinic was a Monday, and 4pm to 6pm was the most popular time to visit the clinic. Practo said that it had seen an 9x growth in search volume over the year, to over 10 million searches a month.
Released on Monday, the report is derived from Practo's search data over the year, based on nearly 40 million appointments and over 75 million searches across 200,000 doctors and over 200 specialities.
The company used search volume from across India, as people continue to look for doctors in large cities and urban centres, Practo said in an emailed statement.
One of the top 10 funded startups in India this year, Practo has a presence in over 35 cities in India, and also operates in Singapore, Philippines, Indonesia, and Malaysia.
["source-gadgets.ndtv"]