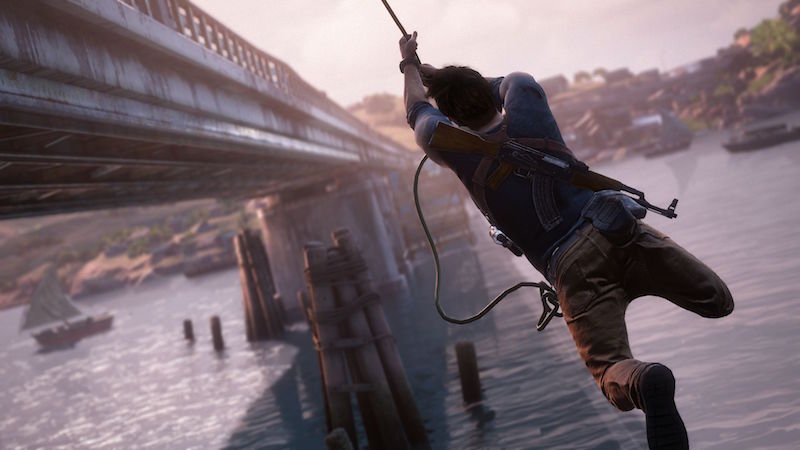 Sony's last and possibly final entry in the Uncharted series, Uncharted 4: A Thief's End, is up for pre-order at Indian retailers. While international sites like Amazon and Sony's own digital store-front have had the game listed for the longest time, Indian gamers can finally pre-order it right now.
So far, you can only pre-order the standard edition of the game. It will retail for Rs. 3,999 with a release date of April 27. Although the price might be on the steeper side, stores like Landmark are offering Rs. 1,000 cash back to soften the blow. How long this deal will last though, remains to be seen. In the past, the publisher has struck down other stores for offering discounts on pre-orders and we won't be surprised to see this happen now as well.
Globally, there are two other editions. For $80 (around Rs. 5,415) there's the Uncharted 4: A Thief's End Special Edition for which includes a steel book case, a 48-page hardcover art book, stickers, and in-game currency to unlock items in multiplayer.
Meanwhile $120 (approximately Rs. 8,123) gets you the Uncharted 4: A Thief's End Libertalia Collector's Edition has all the content of the Special Edition along with a 12-inch statue of series protagonist Nathan Drake and a few multiplayer items.
Right now, you can't pre-order either of these. And the chances of them showing up in India appear bleak.
"We were told by Sony India that we were allowed to take pre-orders late last week for the standard editions only," a retailer told Gadgets 360. "I don't think they want to do the special editions as they would be rather expensive for Indian gamers."
It's an odd move from Sony considering how popular the Uncharted series has been. The general consensus across the industry is that will be one of the rare games that will sell well throughout the year. But with Sony India's leadership in limbo, it'll be interesting to see how the company manages to launch what could possibly be the biggest game for the PS4 in India.
["source-gadgets.ndtv"]