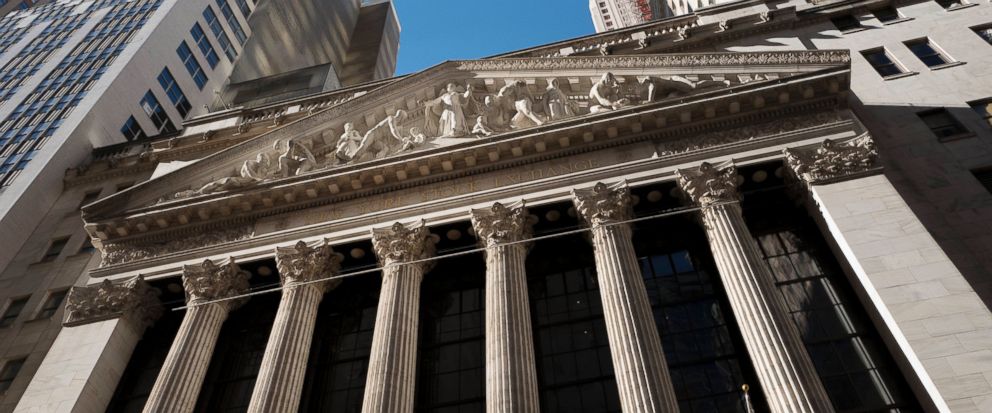 FILE – This Wednesday, Dec. 21, 2016, file photo shows the New York Stock Exchange. U.S. stocks are starting the week higher as media companies gain, Monday, July 31, 2017. Scripps Networks, the company behind HGTV and the Food Channel, rose after it agreed to be bought by Discovery Communications. (AP Photo/Mark Lennihan, File)
U.S. stocks are mostly lower Monday as Facebook and other technology companies open the week with losses. Media companies are rising following a report that Charter Communications might be bought by a Japanese technology company, and cable network companies Scripps Networks and Discovery Communications agreed to combine. High-dividend companies are down and banks and industrial companies are trading higher.
KEEPING SCORE: The Standard & Poor's 500 index was unchanged at 2,472 as of 11:55 a.m. Eastern time. The Dow Jones industrial average continued to build on its record highs as it gained 80 points, or 0.4 percent, to 21,910. The Nasdaq composite lost 17 points, or 0.3 percent, to 6,357. The Russell 2000 index of smaller-company stocks sagged 6 points, or 0.4 percent, to 1,423.
WHAT'S ON? TV: Charter Communications climbed after Bloomberg reported that Japanese conglomerate SoftBank is considering buying the cable TV provider. The report Sunday said that SoftBank initially wanted to combine Charter with Sprint, but after Charter rejected that idea, the technology company may buy Charter outright. Shares of the cable company jumped $18.961, or 5.1 percent, to $389.17, and investors value Charter at about $100 billion. A little more than a year ago it bought Time Warner Cable and Bright House Networks for $67 billion.
Scripps Networks Interactive rose further after it agreed to be bought by rival cable channel company Discovery Communications for close to $12 billion. Scripps picked up 54 cents to $87.45 and it's up 30 percent in two weeks on reports the companies would combine. Discovery Networks took the largest loss on the S&P 500 index as it fell $2.05, or 7.6 percent, to $24.75.
Elsewhere, Comcast added 55 cents, or 1.4 percent, to $40.08.
TECH TROUBLE: Technology companies, including some of the most valuable companies on the market, struggled. Facebook lost $2.05, or 1.2 percent, to $170.40. The social media network leaped 8.6 percent last week following a strong second-quarter report. Alphabet, Google's parent company, shed $10.76, or 1.1 percent, to $947.57 and cloud computing company Citrix Systems gave up 95 cents, or 1.2 percent, to $78.76.
BANK ON IT: Financial companies did better than the rest of the market. Investment management company Invesco gained 62 cents, or 1.8 percent, to $34.98. London-based bank HSBC said higher interest rates helped it make more money for its lending business, and it plans to buy back another $2 billion in stock. Its shares climbed $1.15, or 2.4 percent, to $50.05 and Capital One Financial picked up $1.08, or 1.3 percent, to $86.05.
LEADERS: Health care and industrial companies also rose. Drugmaker Bristol-Myers Squibb jumped $1.68, or3 percent, to $56.95 to regain some of its losses from Friday. Dynavax Technologies soared after a panel advising the Food and Drug Administration said study data shows its Heplisav-B vaccine is safe for adults. Heplisav-B is intended to prevent hepatitis B infections. It would be the company's first approved drug. The stock climbed $6.64, or 7.18 percent, to $15.89.
Boeing continued its rapid ascent and added $3.64, or 1.5 percent, to $244.91 The aerospace company's stock is up 57 percent over the last year. 3M gained 34 cents to $201.06.
CENTENE IN DECLINE: The health insurer slumped as President Donald Trump considered ending federal cost-sharing payments, which help low-income customers buy insurance through marketplaces created by the 2010 Affordable Care Act. Centene is one of the largest insurers that does business in those marketplaces. Its stock fell $3, or 3.6 percent, to $79.69.
ENERGY: The price of oil dipped after its best week of the year. Benchmark U.S. crude fell 36 cents to $49.34 a barrel in New York. Brent crude, the international standard, lost 26 cents to $51.96 a barrel in London. U.S. crude rose almost 9 percent last week to reach its highest price since late May.
BONDS: Bond prices were little changed. The yield on the 10-year Treasury note stayed at 2.29 percent. High-dividend stocks like phone companies and real estate investment trusts mostly fell.
CURRENCIES: The dollar slipped to 110.47 yen from 110.60 yen. The euro rose to $1.1790 from $1.1760.
OVERSEAS: Germany's DAX lost 0.4 percent and the CAC 40 of France sank 0.7 percent. The FTSE 100 in Britain was unchanged. The Japanese Nikkei 225 index slipped 0.2 percent and the Kospi in South Korea finished little changed. Hong Kong's Hang Seng index jumped 1.3 percent.
["Source-abcnews."]