Tesla Motors has finally unveiled its long-anticipated lower cost electric car, the Model 3, at its design studio in Los Angeles.
Costing $35,000 and up, before government incentives, the Model 3 is less than half the cost of Tesla's previous Model S and Model X SUV and aimed at the mass market. The car car will go at least 215 miles (346km) on a full charge, which is around 85 miles less than the more expensive Model S, but about double what drivers of competitors cars costing similar, such as the Nissan Leaf and BMW i3.
It is the culmination of the Tesla chief executive Elon Musk's dream since unveiling the company's first car, an electric roadster, in 2006. At the launch of the Model S in the UK, Musk said that his goal was to produce an electric car for the mass market, funding its development through sales of high-end cars.
The Model 3 looks like a shorter version of the Model S, with a similar sleek profile, elongated hood and a panoramic glass roof. It will seat five adults, has the same large touchscreen panel on the centre console, Tesla's AutoPilot self-driving features and will reach 60mph from a standstill in six seconds.
The Model 3 won't go on sale until the end of 2017, but already had 115,000 of pre-orders before the unveiling and tens of thousands of buyers putting down deposits of $1,000 each. The company experienced long lines of buyers, similar to those found at flagship smartphone launches, at its stores around the world.
Musk, whose company has a history of missing deadlines said: "I do feel fairly confident it will be next year."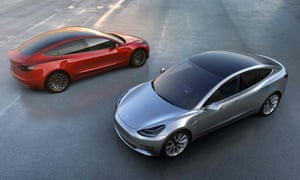 In the US, electric cars account for less than 1% of annual sales. With a decent range, access to Tesla's Supercharger stations, and a cost equivalent to luxury small cars such as the Audi A4 and the BMW 3 series, one of Britain's most popular line of cars, the Model 3 could be the car that takes electric vehicles mainstream.
Cars costing $35,000 or more accounted for 5.5m vehicles last year in the US, 35% of the market, according to data from TrueCar.
Doing so, however, will be a serious test for the 13-year-old company, who until now has been a niche player in the wider car market selling 100,000 of its Model S over for years in a greater than 70m global car market.
Musk said Tesla will expand its stores worldwide to 441 by the end of 2017 and extend its Supercharger network, capable of fully charging a car in just over an hour, globally to 7,200 stations in order to support the Model 3. Tesla will also have many so-called destination charging stations, placed in hotel and venue carparks.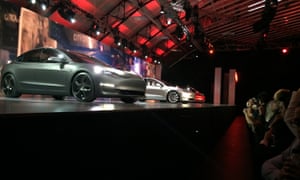 A success or not, Tesla's Model 3 is already changing the industry, spurring competitors to speed development of electric cars and improve their battery range.
General Motors is set to start selling the Chevrolet Bolt electric car at the end of this year costing a similar amount with a 200-mile range. Hyundai's Ioniq also goes on sale in the autumn but with only a 110-mile range. Nissan's Leaf and BMW's i3 are already in the market, with fellow german automaker Audi planning an electric SUV for 2018.
Tesla has an edge with the all-important batteries that power current electric vehicles and make up a significant amount of their cost. Its massive $5bn battery factory in partnership with Panasonic is expected to cut the sots of cells for its car by 30%. The Model 3 is a critical part of the money-losing carmaker's plan to increase sales from about 85,000 this year to 500,000 by 2020.
"We needed to figure out how we, as a tiny company with very few resources, could make a difference," said Musk.
[Source:- Gurdian]