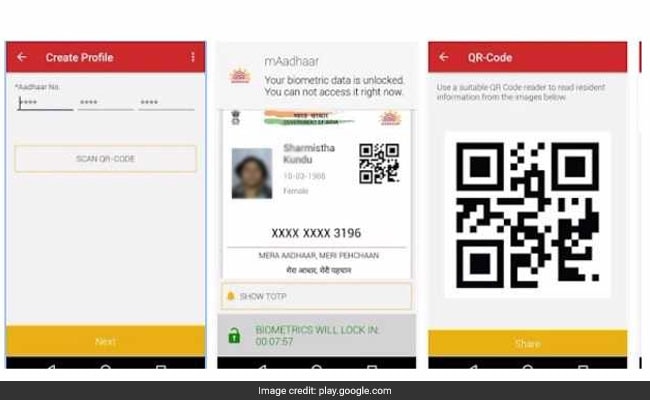 The UIDAI or Unique Identification Authority of India has launched a new mobile app, called mAadhaar, that will negate the need to carry the Aadhaar card in wallets. Users of this mAadhaar app will have all the demographic details of Aadhaar card in their smartphones. Information like name, date of birth, gender and address along with the user's photograph (that is linked with Aadhaar card) will be available in the app. The app is currently available for Android users only. "LAUNCHING #mAadhaar- Carry your Aadhaar on your Mobile. The android app from UIDAI is now available on Google Play," a tweet from Aadhaar's verified account stated.
Some of the services will only be applicable after subsequent updates as the mAadhaar app is currently in beta stage. Users can download this version on Google Play.
The app comes with a biometric lock/unlock feature to secure the personal data. Once a user enables the lock system, the app remains locked till he/she chooses to either unlock it (which is temporary) or disable the locking system. It also has a "TOTP generation" (Time-Based One-Time Password) process which can be used instead of SMS-based OTP.
Users can update their profiles too but only after successful completion of the request. To use the "mAadhaar" app, a registered mobile number is a must. In case your mobile number is not registered, visit the nearest Aadhaar Enrolment Centre or Mobile Update End Point. A QR code facility and password protected eKYC data are among additional features provided in the app.
From July 1, linking of PAN and Aadhaar had been made mandatory for filing income tax returns (ITRs) and obtaining a new Permanent Account Number (PAN). While Aadhaar is issued by the UIDAI to a resident of India, PAN is a 10-digit alphanumeric number allotted by the Income Tax department to a person, firm or entity. The tax department has in the past few months used multiple platforms to ensure linking of Aadhaar with PAN by assessees.
[Source:-ndtv]