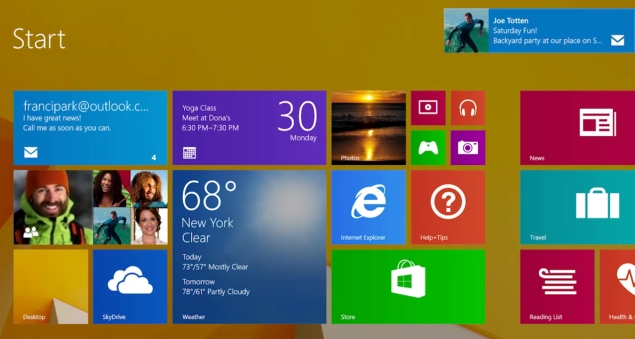 Microsoft at its annual Build developer conference unveiled Windows 8.1 Update, which brought a number tweaks and improvements for desktop and laptop users. While the Redmond giant might be busy promoting its recently released OS version, rumours about the next update have already started doing the rounds of the Internet.
Russian pirate group WZOR, first reported by Myce, has detailed some expected features in the rumoured Windows 8.2 version, alongside features in the similarly-rumoured Windows 9 version, as well as the new Google Chrome OS-styled Windows Cloud OS.
The leak tips Microsoft's shift to a more rapid release cycle, which hints that the rumoured Windows 8.2 version could be released by autumn this year.
WZOR claims that the autumn update for desktops and laptops would be on the lines of the Windows 8.1 Update, and may be called Windows 8.1 Update 2. However, the pirate group also speculates that the update could be released as Windows 8.2.
Further, WZOR (subscription required) suggests that the rumoured Windows 8.1 Update 2 or Windows 8.2 will feature the Start button that Microsoft showed off at its Build conference.
The rumoured Windows 9 version, on the other hand, is said to bring the next-generation of the Metro UI, though the Russian pirate group does not detail anything else about other features. In addition, WZOR claims that the alleged Windows 9 release might be a free one, though of course, there is no confirmation on this point.
Lastly, the pirate group suggests that Microsoft is working on a cloud OS, which is said to be in-line with Google's Chrome OS-style. The report notes that once the rumoured Windows cloud OS will be installed on a system; it will require an Internet connection for full functionality. However, the alleged Microsoft cloud OS could also work offline and would be similar to Microsoft's affordable OS, Windows Starter.
For those unaware, some of the biggest change in the Windows 8.1 Update is the focus on UI-optimisation for mouse and keyboard users. The Windows Store UI will also be made mouse-optimised, Microsoft revealed. The Redmond giant also introduced Universal Windows apps.
["source-gadgets.ndtv"]