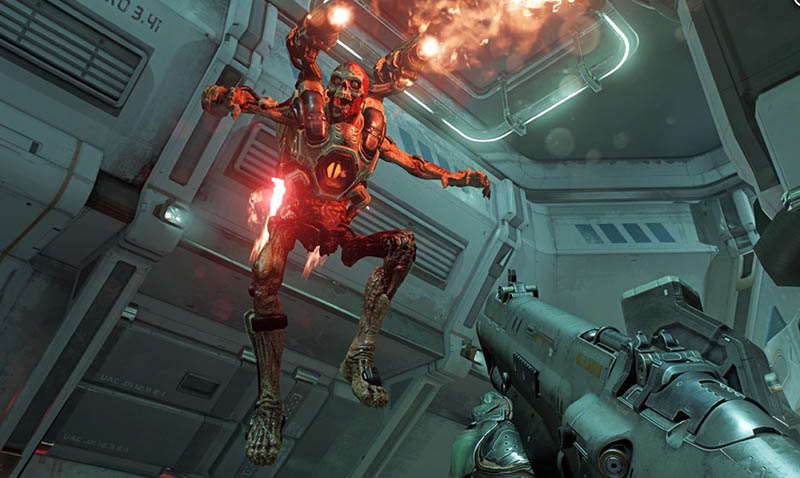 One of the most popular and influential games of all-time, Doom is set to receive a reboot sometime this year. Details have been scant so far, but the latest issue of video gaming magazine Game Informer and its corresponding podcast have brought respite for eager fans.
Keycards were essential to the original game, and probably a bit overused some felt. They will return to the reboot – in blue, red and yellow colours – but will appear less frequently than before. They will either unlock secrets or lead you to the next section of the level.
We also now know that weapons available in-game will have 'mods', and can be equipped with add-ons to give them particular functions. A rocket launcher, for example, could be paired with a remote detonator.
The game's plot will be explained by an opening video message that details the demons were unleashed as part of a religious cult act. The rest of the story will be unveiled as the player progresses through levels, GI said in their podcast.
It remains to be seen if gamers on Windows PCs will receive a well-optimised port, but the GI articlementions "sliders and multi-sampling options" for the PC version.
John Carmack, John Romero, and Sandy Petersen, three influential game designers who worked on the first two instalments of the franchise, aren't a part of the upcoming game's team. While Romero and Petersen left in the 90s to pursue other projects, Carmack was involved with 'Doom 4' – as it was called previously – until the game got stuck in 'development hell' in 2011.
The new Doom will be available for Microsoft Windows, PlayStation 4, and Xbox One at launch. There isn't any confirmed release date for the first-person shooter game as of now, although reports from last week pointed towards an end of June release. While at the time of writing, multiple e-commerce retailers such as Amazon and Gamestop pointed towards a December 31, 2016 release.
It could turn out to be a long year for fans of the franchise.
["source-gadgets.ndtv"]