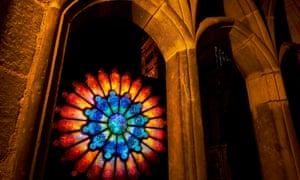 The battle to be crowned the best cathedral in England and Wales on social media may seem an unlikely place for a gentle war of words, but social media managers at some of the most magnificent churches across the country have been waging a low-key fight over who is the best.
The first shots were fired in early October by St Paul's Cathedral on World Architecture Day. Tagging seven other cathedrals so that they would definitely see the message, the cathedral's official Twitter account posted a screenshot of announcements that they had been voted Britain's favourite building in 2015, saying "just going to leave this here."Dubbed #cathedralwars by observing Twitter users, the York Minster account immediately expressed displeasure at being missed out – asking St Paul's "Where's our tag, fam?", a phrase one might not expect to hear coming from a church.Other cathedral accounts joined in, posting photographs of their best features, and, in the case of Norwich Cathedral, a photoshop mock-up featuring the Death Star from Star Wars hovering over the 11th century building.
Ed Holmes, who runs social media at St Paul's, said: "It's cathedrals talking to each other. What's not to like? I knew by tagging people in it was likely to get a response."
Carla Crawley, the tourism and visits manager at Coventry Cathedral, said: "What's been really lovely about it is that it's been really organic. No one sent an email saying 'Right, we're going to do this and you need to do that'. It just grew from nothing really – just that one tweet from St Paul's." Holmes agrees: "It wouldn't work if it was pre-planned."
Taunted at one point for a lack of medieval graffiti, Coventry Cathedral's account tweeted that it was playing "the blitz card": "It's hard to have medieval graffiti when your medieval bits were bombed to ruins in WW2"Crawley said: "What you don't want to do, while everyone is having a light-hearted thing, is to plough in and say 'Well actually this was a really terrible thing and you shouldn't be making fun of it'. You can get the balance between the serious side of things when you need to, but you can also do the lighter things, too."
One person inspired by the light-hearted spat was Ben Brock, a 27-year-old who works in publishing in London. With an interest in architecture, he set up the Twitter World Cup of Cathedrals, using the #cathedralworldcup hashtag. This is a format where users of the social network are able to vote for their favourite cathedrals, and, like a sports tournament, the winners of the public vote progress through group stages into knockout rounds.
The contest has so far seen York Minster, Durham and Ely Cathedrals emerge as strong contenders based on their first round performance.
"I've had a small circle of Twitter friends with whom I regularly talk architecture," Brock said, "but it's also spread to all sorts of other people. I now find myself with quite a lot of new followers who are priests or in cathedral choirs."
The #cathedralworldcup has featured 48 English and Welsh cathedrals in the group stages, much to the dismay of Westminster Abbey's social media team. Realising they had not met the criteria for inclusion on a technicality, they tweeted a sad emoji and the message "Oh well, we look forward to #AbbeyWorldCup"The interactions between the cathedrals have delighted social media users. One posted jokingly that it was "the best religious architecture banter I have ever seen in my life."
Matt Navarra, the director of social media for The Next Web said: "Having personality on social platforms is not just reserved for hip and edgy brands. Though religion is a topic that can often lead to a trolling nightmare for social media managers, this goes to show that with a little planning and creativity, even a centuries-old building can become a social star, spreading its message with humour and character."
Naomi Miller, the development director at Bristol Cathedral, sees social media as a huge opportunity to avoid being seen as "this elitist building which is always very serious".
She said: "I think that the beauty of it is that it shows the cathedral in our fullest form. We do talk about our services and pray via social media, but we talk about what's happening in our city, in our building. Hopefully what it does is show people the breadth of how the cathedral is reflecting and engaging with Bristol."
The world cup experience has been uplifting for those at the cathedrals. Coventry's Crawley said: "The people who work in the buildings obviously we feel really passionately about what we do. But it's just been wonderful to see that across the country and social media."
The #cathedralworldcup semi-final voting commences next week. "Why should Bristol win it?", says Naomi Miller. "Because we have the best puns."
Source::-.theguardian