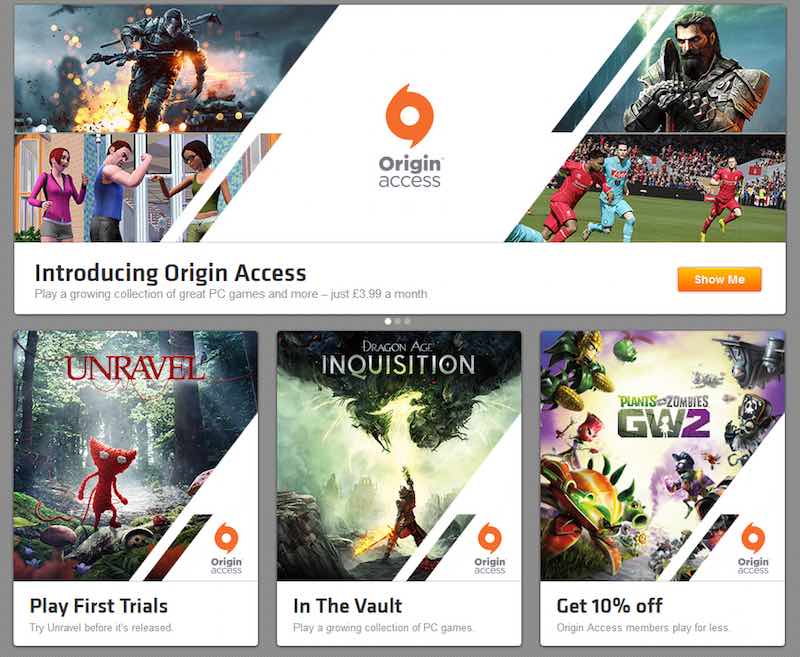 Eagle-eyed members of leading video game forum NeoGAF spotted Electronic Arts' much vaunted Xbox One digital game subscription service EA Access coming to Windows. Dubbed as Origin Access (as it would be delivered via EA's PC digital platform, Origin), the promotional material states that PC users running Windows will have access to EA's burgeoning catalogue of titles for $4.99 a month. This is what Xbox One users pay for EA Access as well. India can expect for Rs. 315 per month or Rs. 1,990 for the year, the same price for what EA Access is on the Xbox One. At the moment EA has not listed an annual subscription plan just yet.
The promotional material was taken down from Origin's US website, but was brought back up minutes later. The UK website lists it at GBP 3.99 per month (pictured above). It appears that Origin Access has released prior to an official announcement from EA. There's an FAQ page on the US site. It states the same benefits you'd expect from EA Access on the Xbox One. Namely the ability to play a "growing collection of great PC games", being able to try new EA games before release, and letting you save 10 percent on Origin purchases.
As for India? Checking out the FAQ page or any Origin Access details results in a message stating that it is not available in the region yet. Though we won't be surprised to see it showing up shortly.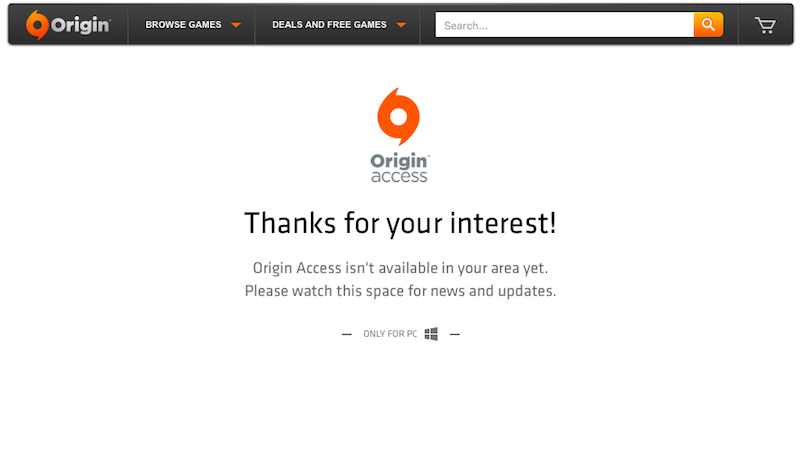 Right now the service is available in select countries, namely US, UK, Germany, and Canada, with more to follow. The games playable at the moment are as follows:
Battlefield 4
Dragon Age: Inquisition Digital Deluxe
Battlefield Hardline Digital Deluxe
Battlefield 3
SimCity
FIFA 15
Plants vs. Zombies Garden Warfare
Need for Speed Rivals: Complete Edition
Dead Space 3
Dragon Age II
Dead Space 2
Dragon Age: Origins – Ultimate Edition
Dead Space
The Sims 3 Starter Pack
This War of Mine
What's interesting though is that Origin hosts games that work on both Mac and Windows. Yet, the service seems to be for Windows only. With Origin having non-EA games, we won't be surprised to see it extended to titles from other developers.
When we evaluated the Xbox One a year after its India launch we deemed EA Access to be one of the compelling reasons to purchase the console. With it coming to Windows, it allows a larger number of users to enjoy EA's upcoming lineup including Unravel, and hopefully, Mirror's Edge and Mass Effect Andromeda, all of which make it appear to be its strongest in years.
["source-gadgets.ndtv"]